Hi friends and happy Friday! I hope your week has been a fabulous one! I started off the week at the Ojai Valley Inn in Ojai, California and it was glorious. It was a Beautycounter Incentive trip that I worked my tail off to earn! It was so nice and they totally spoiled us. I had so much down time and really enjoyed it! It made me realize that even in my downtime at home, I'm not actually unplugging and recharging. I'm totally that person who works constantly and doesn't rest much. I think it's just how I'm wired. That being said, I did take a few days to rest and it was so nice and needed!
Friday Favorites
Nothing better than a gorgeous view and a cup of hot coffee!
My business casual look for Monday's morning training!
BLAZER // TEE // JEANS // SHOES
A glass of chardy, a cute suit and hat and I'm a happy gal!
SIMILAR SUIT // HAT // SIMILAR HAT (amazon) // SUNGLASSES
What I wore for the red, pink, orange night! This dress is not available online, so I linked some similar options below so that you can recreate this look!
SIMILAR DRESS // SIMILAR DRESS // JACKET // SIMILAR HEELS // PURSE // LIPSTICK (color: Girl's Night)
Tried goat yoga and made a new friend, who seemed to love taking selfies!
TOP (size up because cropped…I'm in medium) // LEGGINGS // SIMILAR SHOES // SUNGLASSES
What I wore to the western chic night! This skirt is a must!!
SKIRT (XS) // TOP (small) // JACKET // BOOTIES // PURSE // EARRINGS
The views were incredible! I can't wait to go back one day with Mr. Fancy in tow!
What I wore home on the plane. This was the perfect travel outfit!
SWEATSHIRT // LEGGINGS // SIMILAR SNEAKERS // TOTE
My new favorite pajamas! They are so soft and SO cute!
PAJAMAS (small)
A splurge but treated myself to this sweatsuit that was calling my name (for several days) at the hotel gift shop! My new "at home" uniform!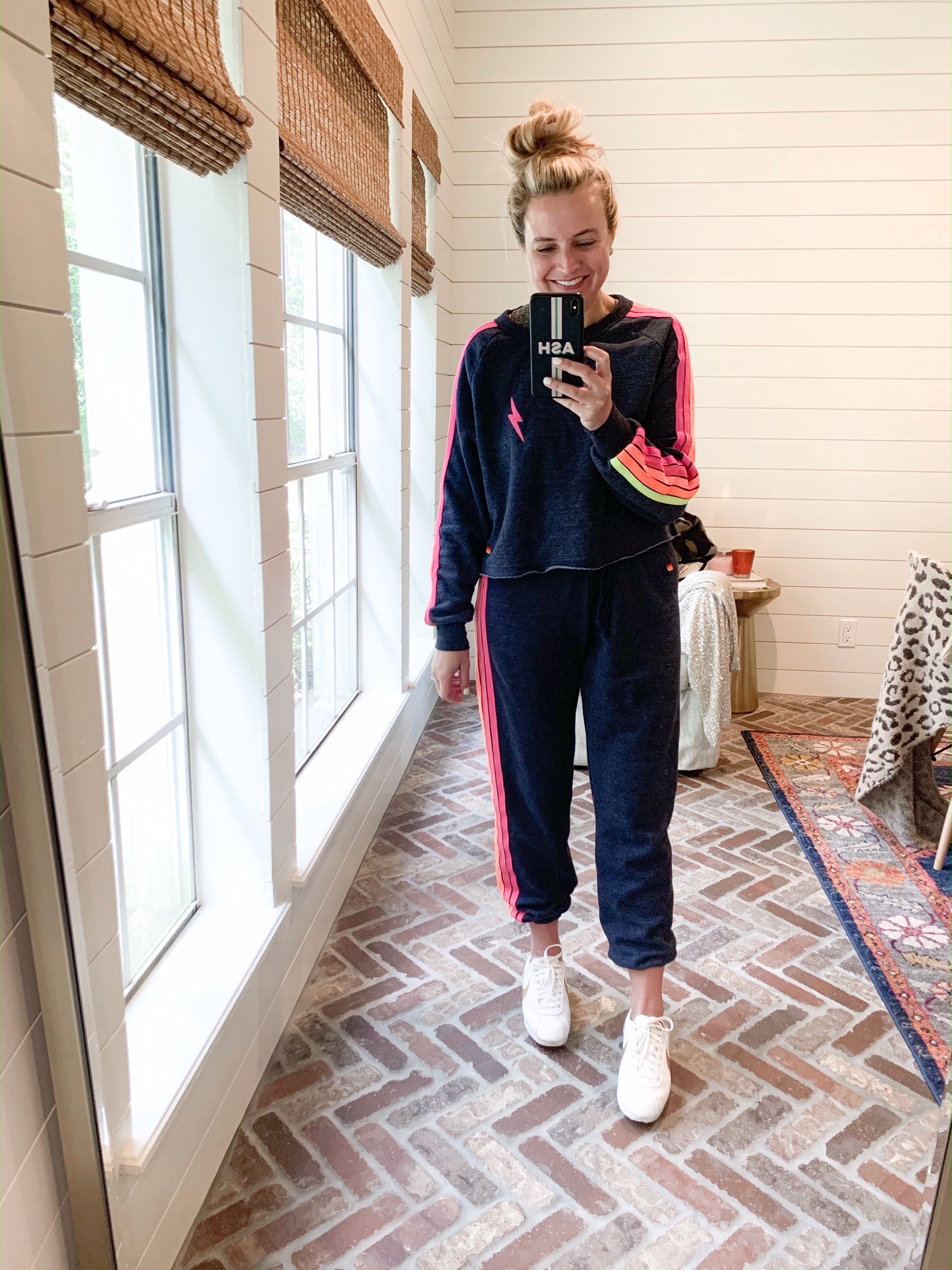 Self Care Ideas
The realization this week that I really don't unplug and recharge at home has me thinking that I need to make this more of a priority and something tells me you do too!  I think as moms and as women in general we give, give, give and work, work, work, usually putting ourselves last.  I think as we go into this busy holiday season it's all the more important to remind ourselves to recharge at least once a week, be it big or small! Here are a few ideas…
BATH CADDY // HAIR MASK // LIP MASK
ICE ROLLER // CHARCOAL FACIAL MASK // COZY CHIC SOCKS // CALM DRINK
TEA SAMPLER // BRIGHT EYES TREATMENT SET // CANDLE DUO // BLANKET
Gratitude- A Great Form of Self Care
Another way that has been helping me feel more grounded and calm is to start my day with a gratitude journal and write down three specific things that I'm grateful for.  Not the obvious things like family, friends and a home (although those top the grateful list) I try and reflect on specific moments from the previous day or things that are bringing me joy.  By recording them every morning it not only sets the tone of the day in a positive way, but I love going back and reading these reflections when I'm feeling anxious or stressed.  It's been a game changer for me so I wanted to share it with YOU!  We shared these two printables last week on the Fancy Ashley Weekend Newsletter, but didn't want you to miss out in case you aren't subscribed…which by the way, you totally should be so you don't miss future resources!  SUBSCRIBE HERE!
Buy Now, Wear Now…and Later!
I'm still loving these holiday pieces that I shared in this post, this week!  I love that you can incorporate the pieces into your wardrobe NOW, but also have that perfect outfit already in your closet come December when your head is spinning from all the things, but you need something to wear!
BLAZER // TOP // JEANS // HEELS
October Amazon Favorites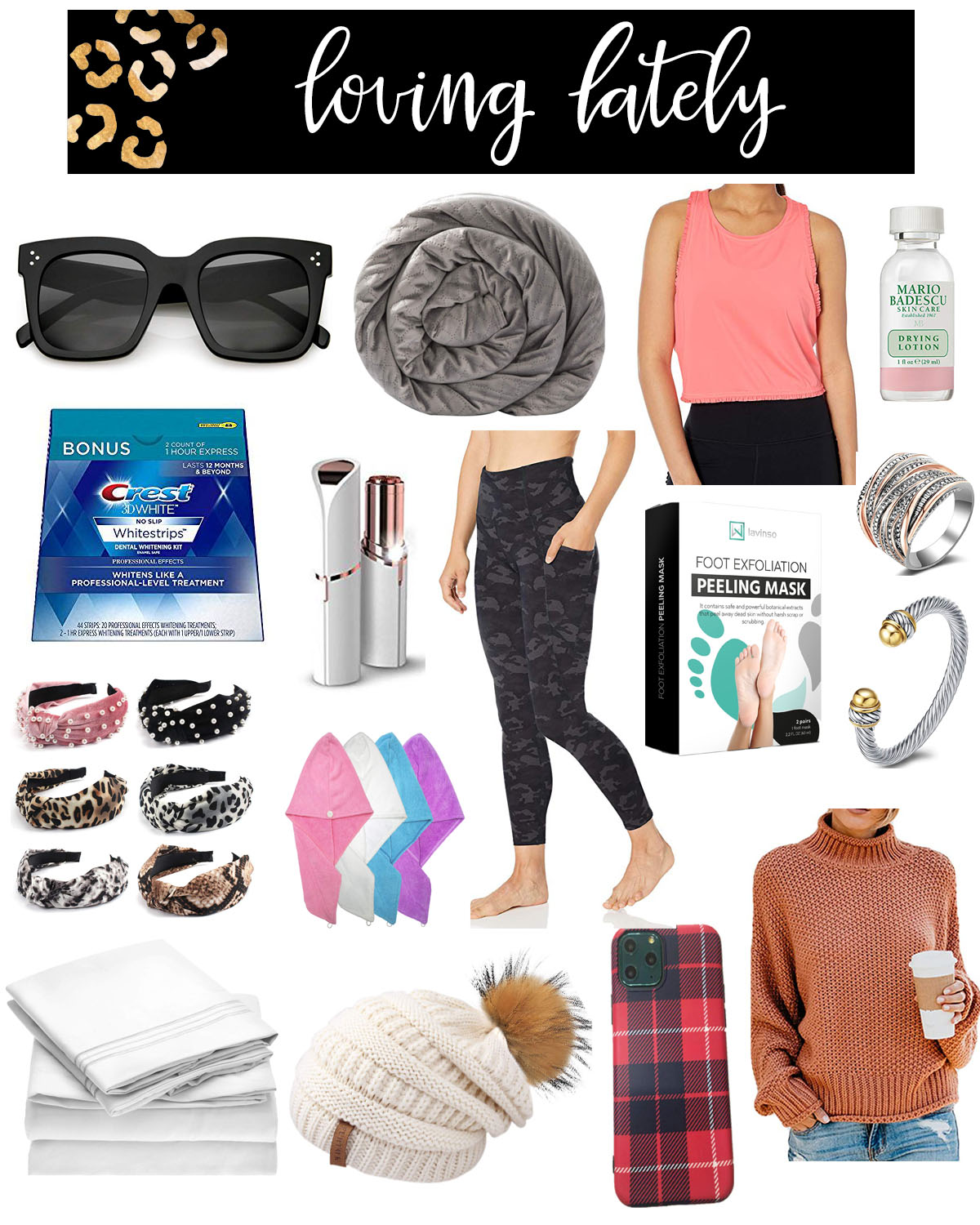 SUNGLASSES // WEIGHTED BLANKET (ALSO HERE) // TOP (size up because cropped) // DRYING LOTION
CREST WHITESTRIPS // HAIR REMOVAL TOOL // SEAMLESS LEGGINGS // FOOT MASK // RING
BRACELET // HEADBANDS SET // TOWEL TURBANS
SHEETS (been using for AGES! Have on most of our beds) // BEANIE // PHONE CASE // SWEATER
I hope you guys have a great weekend!! XO!