This post sponsored by Walmart and ShopStyle. I love partnering with brands that I love and trust. Post ideas and opinions are my own. 
Happy Monday, friends! I hope you had a great weekend!! Is it mind baffling to anyone else that July is almost over? I can't get over how fast time is flying and I know I sound like a broken record saying that! I'm super excited to be back here today with a fun post from Walmart! As much as I love getting prepped for fall, here in Houston and lots of other places, there is still so much summer to be had!!
I have loved partnering with Walmart the past few months as a part of their We Dress America campaign. They have so many awesome brands and clothing and accessories to choose from. My favorite brands include (but aren't limited to) EV1, Sofia Vergara Jeans, Maurices, Time and Tru and more! I love Wonder Nation and Children's Place for the kids (see that POST HERE). As a lot of you know, I am from and have spent a good chunk of my life in Southern California. It's a place that is near and dear to my heart and a lot of my family is there, and also great friends. Back in June and Early July, we decided to spend a few weeks in Newport Beach as a family. It was just a great way to reconnect, spend lots of time just us, but also to see our family and great friends. It was truly one of our favorite trips that we've taken as a family. Because the beach can be chilly in the morning and warm in the afternoon, I ended up ordering lots of transitional pieces from Walmart for our trip. I love that for lots of items you can use the two-day shipping option and get your items delivered so quickly. I even had a few items delivered right to our beach house to save time!
Summer Looks from Walmart
A few standout pieces that I ordered and love are these JEANS and these JEANS. The high waist and length are my favorite parts, but you also can't beat the price point! I've been living in these SANDALS for the past few months and love them. They are so comfy and have a little padding on the sole area, which I love. This mustard TOP is probably one of my favorite purchases from Walmart, lately. It's so feminine. I love the ruffles and the eyelet detail. I also think it would be perfect to take you from summer into fall if you added a faux leather jacket on top. I am obsessed with THIS JACKET ($58).
TOP (size small) // JEANS // SANDALS
TOP (size small) // JEANS // SANDALS

Summer Looks from Walmart
This next look was again, a favorite! Give a striped top or SWEATER anyway of the week and it'll be one of my favorites! This SWEATER came in so handy! I wore it a ton…even on our boat ride one night. It's the perfect weight to wear alone or to layer it. Again, these JEANS are my new obsession and the price is amazing!! I paired the whole look with these white and camo SNEAKERS. Aren't they just the cutest thing?!
SWEATER (size small) // JEANS // SHOES
SWEATER (size small) // JEANS // SHOES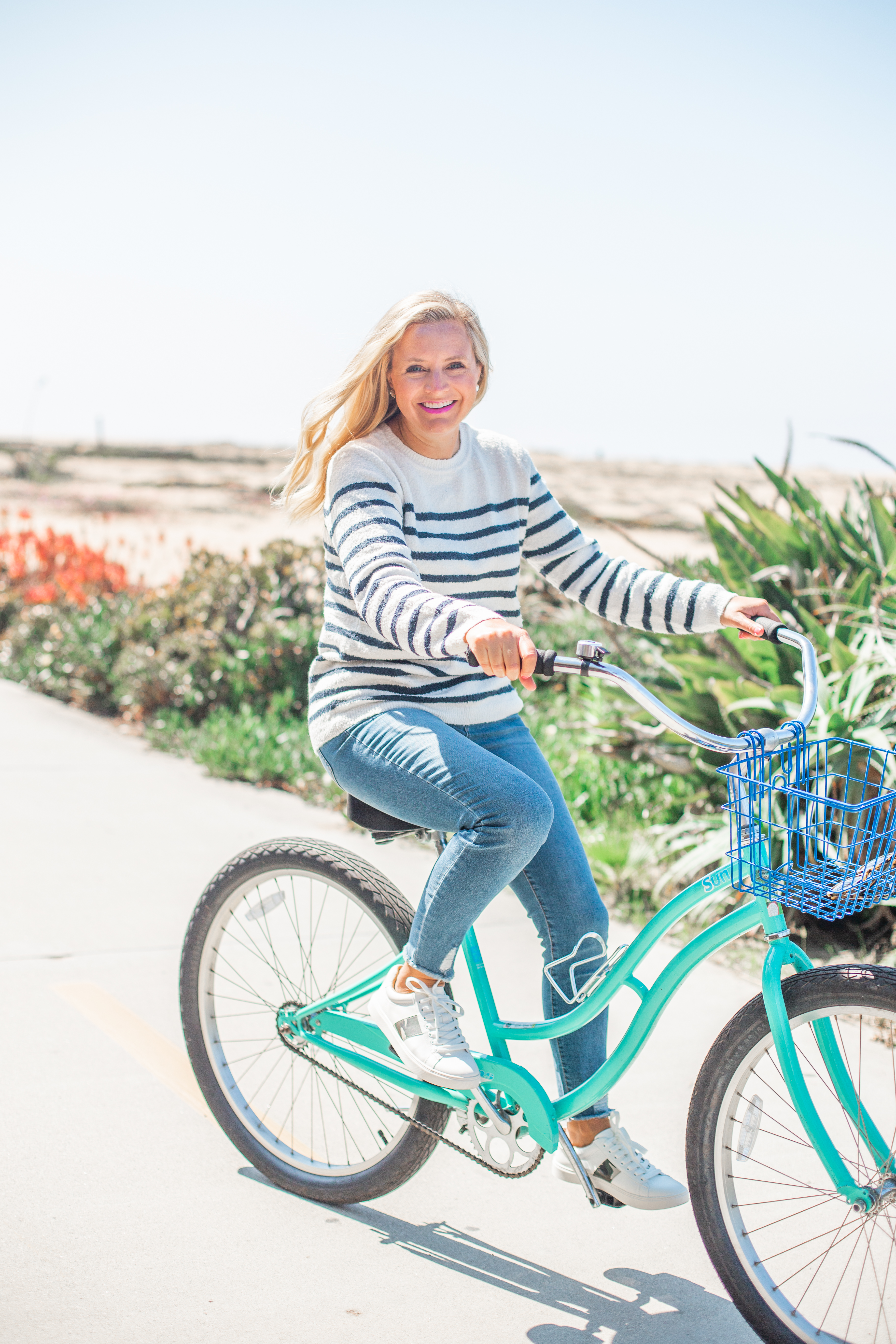 SWEATER (size small) // JEANS // SHOES
SWEATER (size small) // JEANS // SHOES
SWEATER (size small) // JEANS // SHOES
SWEATER (size small) // JEANS // SHOES
SWEATER (size small) // JEANS // SHOES

Which look is your favorite?
I hope you have a wonderful day!! Enjoy these last few weeks of summer!! XO!