This post is sponsored by Walmart and ShopStyle. I love partnering with brands that I love and trust. Post ideas and opinions are my own.
Hi friends and happy Monday! I hope you week is off to a great start! We are off on a little summer adventure this week. Be sure to follow Instagram for more of our summer fun! Speaking of summer fun, I am thrilled to be back with Walmart today to share 6 happy things to add to your summer routine. I have really be focusing on these little life things that may seem small, but they are actually quite impactful and have really helped to get my summer off to a fun and most importantly, happy start! Walmart has so many awesome summer options for the whole family and I really love that you can find clothing to books to pool floats to sunglasses and more, on their website! I found so many great items that I am sharing with you below! But, I especially love the fact that I found this ROMPER! Is it summer perfection or what? How cute is this ROMPER? It is a total summer staple and perfect to wear to the beach or pool or throw some WEDGES on with it and wear out to dinner! While on the Walmart site, I would recommend grabbing this PURSE too! It's one of my summer favorites! This ROMPER is soft and just total perfection. It's almost like wearing pajamas! You need it! Trust me! It fits super true to size and I am in the size small. If you are taller or have a long torso, I always recommend sizing up in jumpsuits and rompers! Take a peek at these 6 happy things to add to your summer routine!
6 Happy Things to Add to your Summer Routine
Get your hair wet!
I can't tell you how many days (and years really) that I have skipped getting my hair wet in the pool or ocean Granted my hair once turned neon green and I'm scarred for life! Ha! But, a few weeks ago, I was in the pool with the kids and decided to go for it! We had so much fun! I want to be that mom who gets her hair wet more often and when were at the beach a few weeks ago, I did the same. Life is just to short to not get that hair wet!!
ROMPER // FLOAT // BOOK // SUNGLASSES
Shop some fun summer gear from Walmart below:
Read a good book
And I'm talking about one of those books that you just can't put down. I've read a bunch of those recently. I really enjoy reading and love it especially when I can't put a book down!! Summer is the perfect time to read, read, read! I always bring a few books on vacation and even if I only get a few chapters in a day, it's still something and still brings so much joy!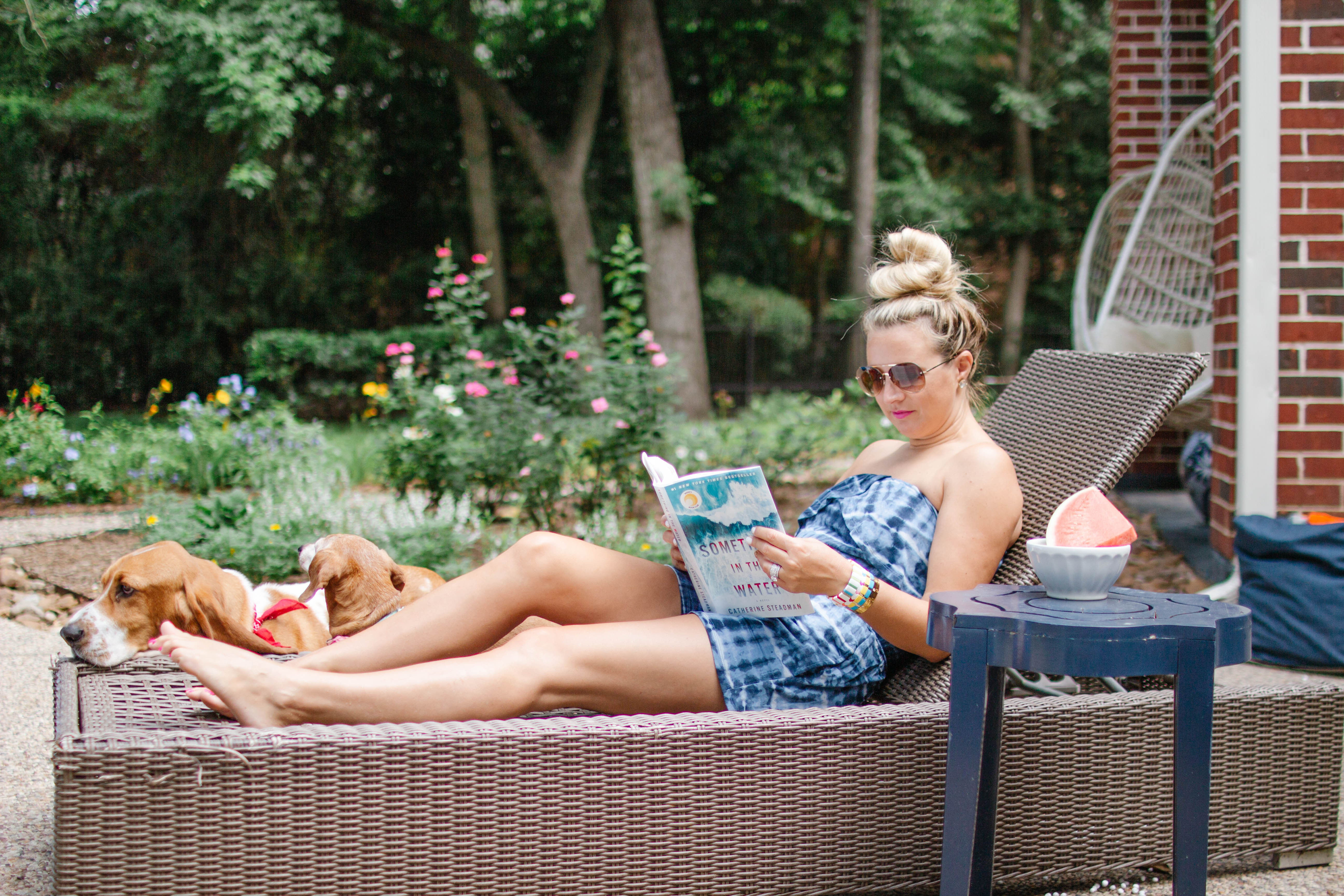 ROMPER // FLOAT // SUNGLASSES
Watch a good show
Having a good show that you can just turn on to wind down after a long summer day, is so nice. There are so many great shows out there right now! What are your current favorites? Any must watch shows for me?
ROMPER // FLOAT // BOOK // SUNGLASSES
Shop my favorite loungewear from Walmart below:
Play board games with your kids
We love Monopoly! We have really made it a point to have a family game night once a week and it's been so much fun. Teddy does struggle with the fact that I almost always win Monopoly, though! Ha! It's just like a set aside thing that we love to do together as a family. What are your favorite games to play with your fam?
ROMPER // FLOAT // BOOK // SUNGLASSES
Shop my favorite summer kids gear from Walmart below:
Date your spouse or significant other
Even if it's a date night at home, be sure to find the time for the two of you, especially when the kids are home for the summer. We have been terrible about this over the past year and we are really making a point to change this. Even if it's just happy hour at home, while the kids play, just be sure to get those moments in with your love!
ROMPER // FLOAT // BOOK // SUNGLASSES
Shop my favorite date night looks from Walmart below:
Exercise
This is a huge one for me because I don't enjoy exercising, but I have really made a point to walk George or hop on the Peloton, at least 5 days a week! It's good for your mental and physical beings! And summer is such a perfect time to add in a new routine-just something you can do at home! There are so many at home options for a workout. I also love the sweat app aka BBG. It really helped me change my body last summer!
ROMPER // FLOAT // BOOK // SUNGLASSES
Shop my favorite exercise gear from Walmart below:

Do you do any of these 6 things that I recommended for a happy summer? Get that hair wet, friends!!
Have a great day!! XO!