Hello my peeps and happy Monday to YOU! I hope your week gets off to a wonderful start! I spoke at a conference this past weekend and while I am exhausted, I am totally feeling inspired and ready to hit the ground running this week! Speaking inspiration into others, totally fires me up and I am so very excited for whats the come to the Fancy Ashley brand this year! Onto today's post! Lots of you have requested good, old Splurge or Save post and I'm thrilled to bring it to you today with some of my current favorites! Take a peek at my Splurge or Save spring picks below!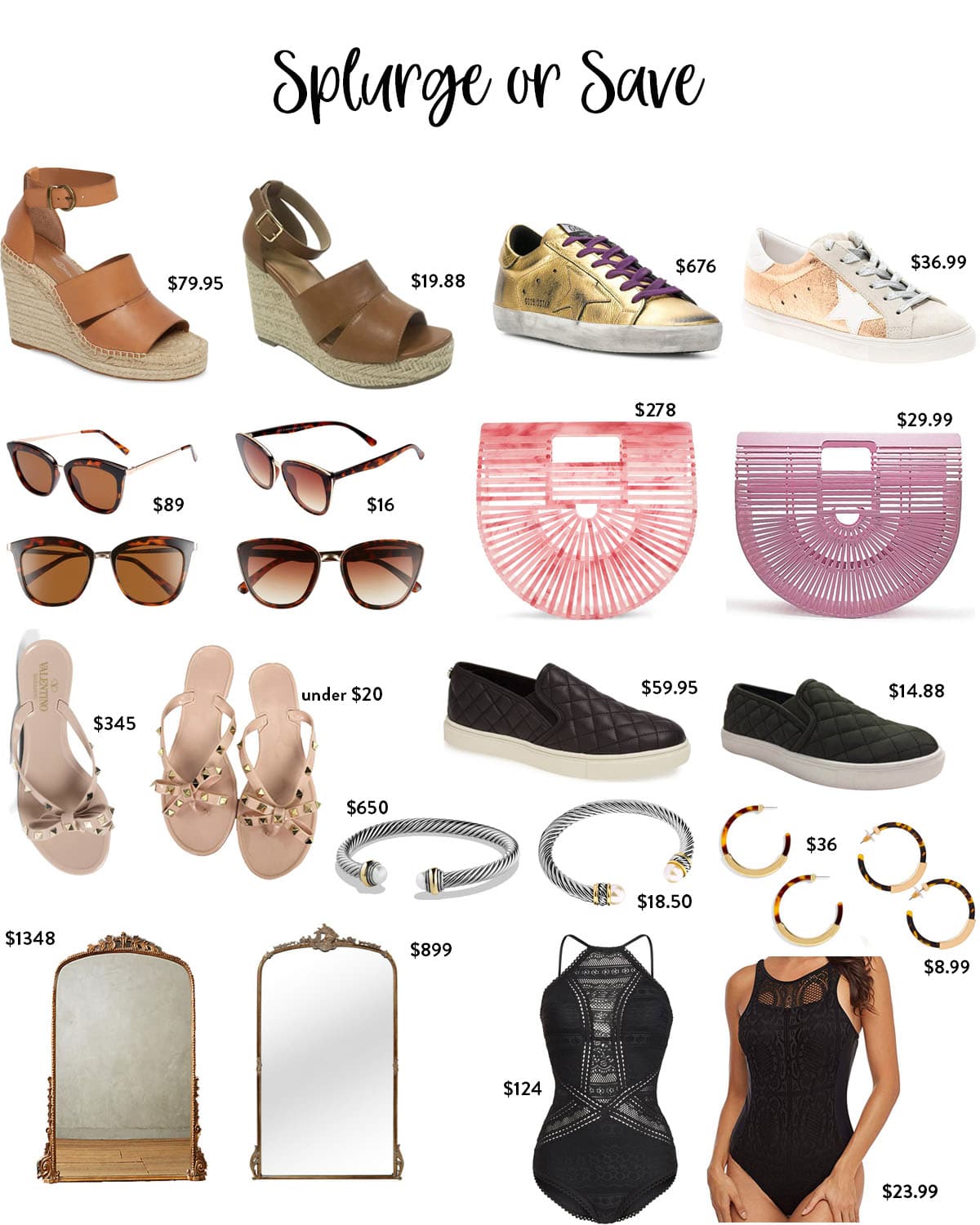 SPLURGE WEDGES (HAVE AND LOVE) // SAVE WEDGES
SPLURGE SNEAKERS // SAVE SNEAKERS (HAVE & LOVE IN LEOPARD)
SPLURGE SUNGLASSES // SAVE SUNGLASSES
SPLURGE FLIP-FLOPS // SAVE FLIP-FLOPS // ALSO HERE
SPLURGE SLIP-ONS // SAVE SLIP-ONS
SPLURGE BRACELET (HAVE & LOVE) // SAVE BRACELET (ALSO HAVE & LOVE)
SPLURGE EARRINGS (HAVE & LOVE) // SAVE EARRINGS
SPLURGE MIRROR // SAVE MIRROR (HAVE & LOVE)
SPLURGE SWIMSUIT // SAVE SWIMSUIT
So, will you Splurge or Save on these items? Which of these items are musts for you?
Have a great day! XO!
If you liked this post, you'll love Why I Love My Weighted Blanket and The Drape Front Jacket You Need For Spring!