This Echo Dot Kids Edition post is sponsored by Amazon. I love partnering with brands that I love and trust. Opinions and post ideas are always my own.
Hi Friends and happy Saturday!!! As you saw earlier this week, we partnered with Amazon to share the amazingness that is the Echo Dot Kids Edition. These are amazing gifts for your kids and there is still time to grab them! If you haven't seen my reasons why you need an Echo Dot Kids Edition, be sure to go see THIS POST and watch our video on how we use them and how they make my life easier as a parent! In turn, to make my life easier, I needed my own ECHO DOT. I have quickly fallen in love with this device and Alexa has become a great "friend" of mine. From the weather to reminders to playing music, she's got the busy gal on the go covered! Take a peek at this video on how I use my ECHO DOT on a daily basis! By the way, need a gift for the person who has everything? The ECHO DOT is an awesome option and is currently on sale!
Video Links:
VEST // STRIPED TOP // JEANS // TOTE BAG
What I use the ECHO DOT for on a daily basis:
Music- I love to have music playing while I am cooking, working, etc. I am able to stream my playlists and favorite songs/artists from Amazon Music, Apple Music, Spotify, SiriusXM, Pandora, and more…
Reminders- I am the queen of forgetting things, even if they are on my calendar! I tell Alexa to remind me to do certain tasks, at certain times and she helps to keep me on track.
Grocery Lists- How often are we at the fridge and realize we need an item from the store, but our list is nowhere to be found? Alexa has us covered and she keeps a running list for me!
Weather- As I am grabbing my coffee every morning, I ask Alexa the weather. this helps me know what to wear and it also helps me to tell the kids what the weather will be.
Use as an intercom system- you'll remember this from THIS POST. I no longer have to yell upstairs to my kids! I just use the drop-in feature between all of our devices and it is amazing and makes my life so much easier! See more about this feature HERE! This is one of my favorite features!!
Questions- Alexa can help answer questions, read the news, set alarms, etc.
Alexa can hear you across the room! This is an awesome feature! I love that I can ask her to do things but not be right there by the device!
Calls- call almost anyone, handsfree!
Pair with a second Echo Dot (3rd gen) for stereo sound, or connect to your own speakers over Bluetooth or with a 3.5 mm audio cable.
Use your voice to turn on lights, adjust thermostats, lock doors, find TV shows, and more with compatible connected devices.
And more!!!
The ECHO DOT makes an amazing gift! Don't forget, it's on sale today! Order it HERE!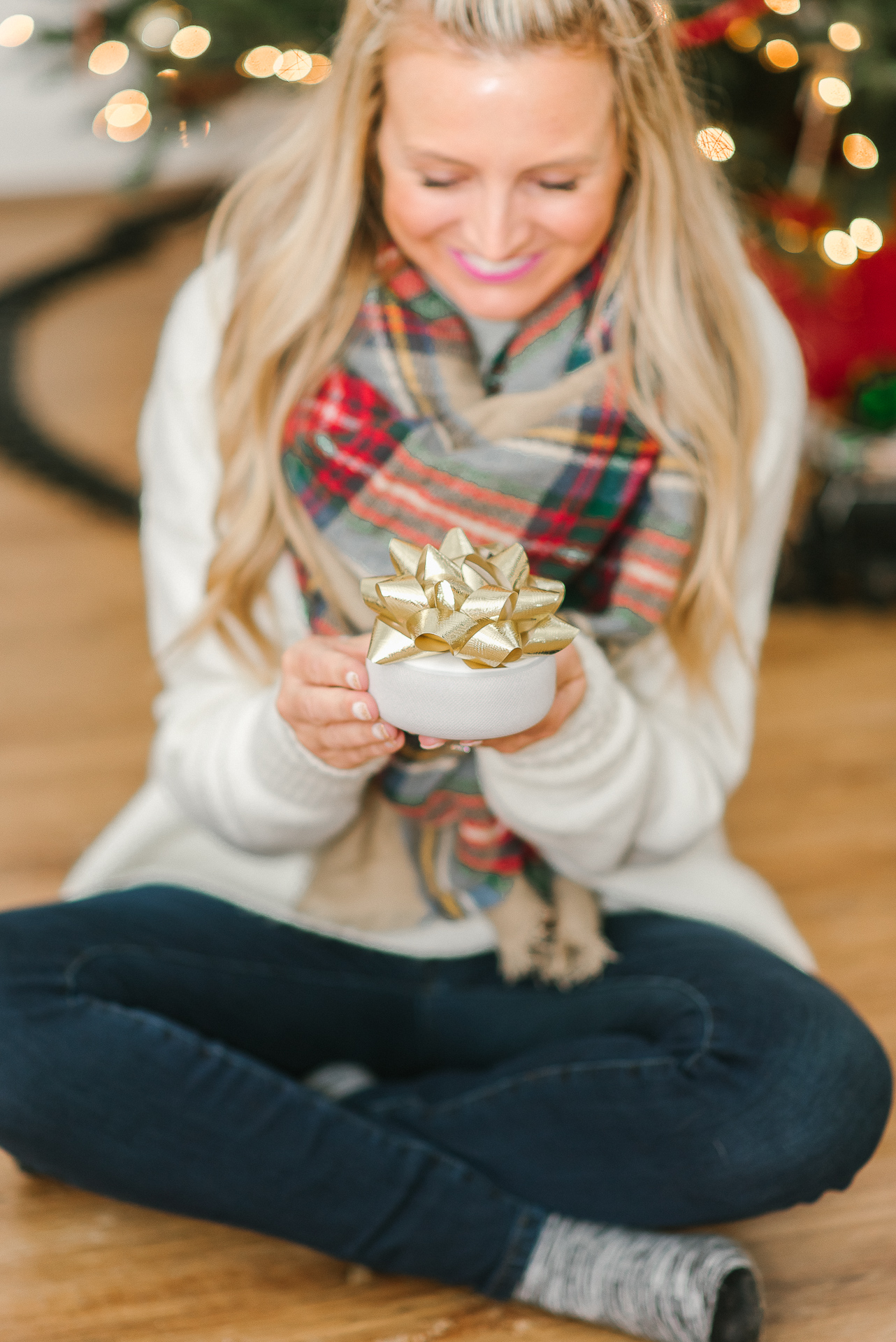 ECHO DOT // ECHO DOT KIDS EDITION
On Ashley: SCARF // SWEATER // JEANS
Do you still need a gift for the person who has EVERYTHING? The Echo Dot is a great gift idea and anyone would be thrilled to open up! Let's finish up that holiday shopping, friends! XO!