This cozy gift ideas post is sponsored by Everlane and ShopStyle. I love partnering with brands that I love and trust. Post ideas and opinions are my own.
Hi friends and happy Monday to you! I hope your weekend was wonderful! The holidays are here and all the twinkle lights and Christmas trees just make me so happy! I'm super excited to partner with Everlane today to chat about my favorite warm weather cozy gift ideas! If you don't know about Everlane, they offer items that are amazing quality and they partner with the best ethical factories around the world to produce their products. Here's a little snippet from their website that really spoke to me: "We spend months finding the best factories around the world—the same ones that produce your favorite designer labels. We visit them often and build strong personal relationships with the owners. Each factory is given a compliance audit to evaluate factors like fair wages, reasonable hours, and environment. Our goal? A score of 90 or above for every factory."
I just found this to be a very neat and amazing way to run a business in today's world. That being said, I have completely fallen in love with their newer to me products. Their fleeces and their puffer jackets are amongst my favorite functional basics for winter! And a few of the items that I am wearing are a part of their amazing ReNew line! This is a line of outerwear that is made from discarded plastic bottles! I will tell you exactly how many bottles it took to make each of the pieces that I am wearing! I am amazed by this, y'all! It's such an awesome concept and these products are such good quality too! See more info on their ReNew line in this video HERE.  A fun side story about my Everlane jacket…My sister loved my jacket so much that she tried to take it! I was like "no ma'am!" I love this jacket so much that I can't part with it! Needless to say, her own jacket will be wrapped under the tree for her on Christmas morning!
Take a peek at my favorites cozy gift ideas from Everlane!
Cozy Gift Ideas for the Warmth Seeker
First up is this FLEECE PULLOVER. I am in love. I just wish I had ordered more than one because I can't stop wearing it. It's the perfect weight and has kept me so warm throughout the past few weeks! A fun fact about my favorite new fleece, it just made from 36 renewed plastic bottles! Isn't that amazing?? This is a great sister, sister-in-law, mother in law, etc gift idea! I think anyone would be thrilled to open this on Christmas morning!
PULLOVER // TOP // JEANS // SHOES
Next up is the infamous JACKET that my sister just had to have! It's rare for me to fall in love with a coat, but this one has me head over heels! It is perfection! It's a great weight and SO warm! And guess what?! This jacket is made from 47 renewed plastic bottles. I just thought this was just such a neat fact and it makes me love this jacket even more! It comes in three colors, but I opted for the great basic black color. That being said, that emerald green was a close second for me!
JACKET (size small) // PULLOVER // JEANS // SHOES
Next up is another fun FLEECE PULLOVER. I thought this one was so cute and while I am showing it layered over a button down, it's also super cute to wear solo! I loved this olive green color, but it comes in six color options!! This one is also made from recycled plastic bottles, from 35 renewed plastic bottles to be exact! How neat is that?! Again, this is such a great gift! Who wouldn't love the gift of cozy?!
Everlane has such cute SCARF and HAT options! They are so cute and equally as important, they are soft! These are great gift ideas or sticking stuffers! I fell in love with this lilac scarf! It added such a fun pop of color to my look! This PLAID COAT is another favorite! Not only is it warm and cute, but it's also extremely functional! It's another great gift to have wrapped up under the tree!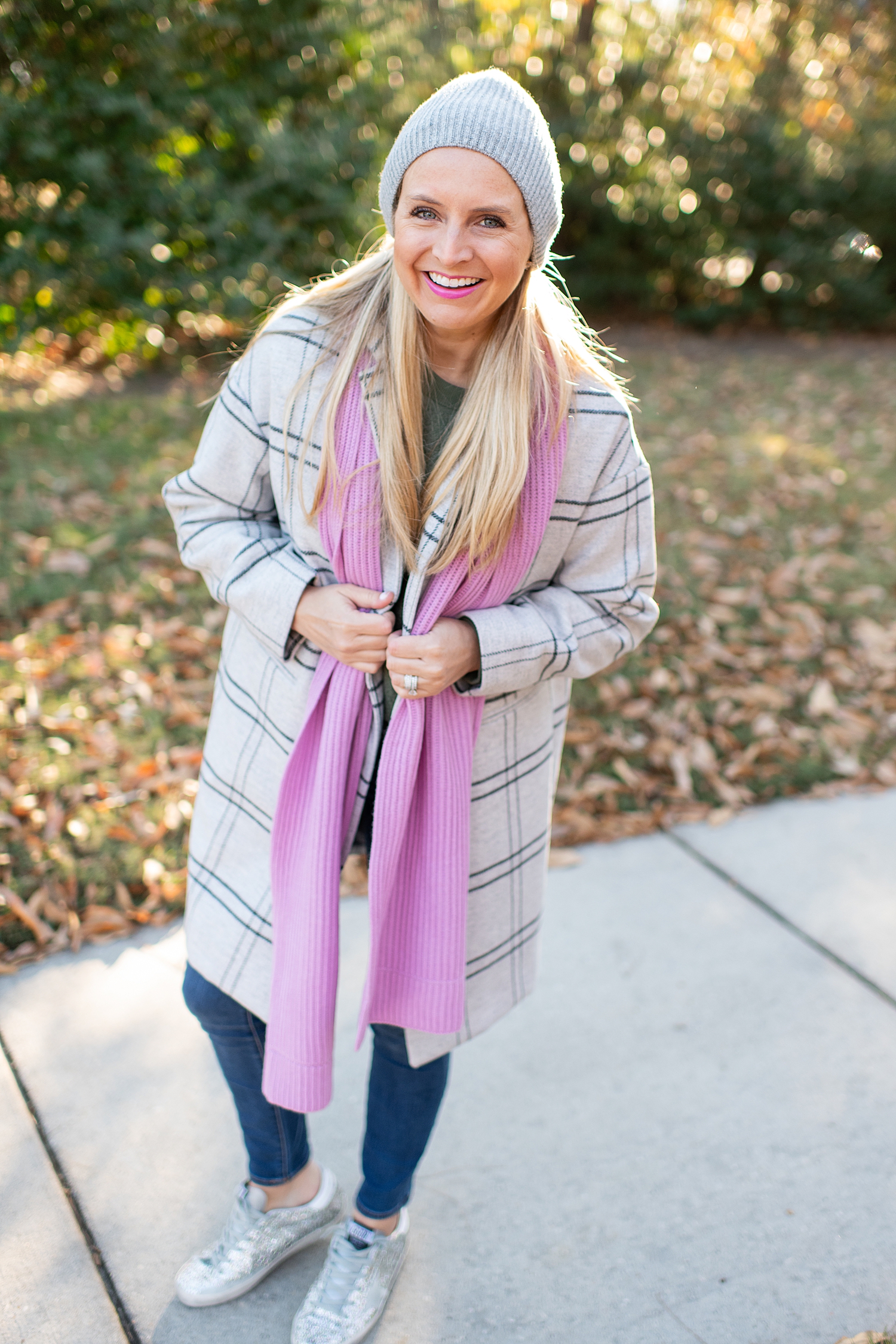 COAT // SCARF // HAT // JEANS // SHOES
Do you have a warmth seeker on your Christmas list? And zero judgement on gifting yourself a few of these items! They are that good and don't forget, when you purchase an item from the ReNew line, these products are being renewed to make your product! It truly is "outwear with an outlook," as they say ! I think any of these fun picks from Everlane would be great gifts!!  See a few other fun options below!
Loving these cozy gift ideas? Click here now for more awesome gift ideas!
Have a happy Monday, friends!! XO!