This Living in Yellow post is sponsored by Nordstrom and ShopStyle. I love partnering with brands that I love and trust. Post ideas and opinions are always my own. 
Happy Monday, friends! I hope you had a wonderful weekend! Can you believe that October ends this week? How is it already almost November? I really can't even believe how fast time is flying! I am so excited to partner with Nordstrom on today's post! Not only it Nordstrom one of my favorite on stop retailers, because it's also launch day for my sweet friend Erin's new Living in Yellow cozy collection with Gibson! We are all doing the Gibson x Glam collection together (see more details here) and I have truly enjoyed getting to know Erin and love her! She is wonderful! This collection is right up my alley because it's all cozy items and it's all perfection for fall and winter! While I am obsessed with all the things in the collection, this TOP was my favorite and when she showed me a picture of it in LA and I started brainstorming all the different ways to wear it! Today, I am going to show it to you three different ways. It also comes in solid colors, which I ordered, so that I can wear it with my tartan plaid tops too, but I just had to start off with this leopard because it is SO fab! This TOP is the signature cozy fleece material that we all know and love and it's definitely a must in my book! Check out the three different ways I would wear this Living in Yellow TOP! I am wearing this TOP in a size SMALL.
3 Ways to Style the New Living in Yellow Cozy Collection
The first way to wear this Living in Yellow TOP is with a button down underneath. This is a great way to layer this piece for fall and winter and truth be told, this is my favorite way to wear it! I paired this TOP with this cute BUTTON DOWN TOP and my favorite jeans. I added this cute HAT because I am just obsessed with it. So much so, that I bought the HAT in two colors! Then I added my fave mules! do you have these MULES yet? They are great and perfect to wear instead of a bootie! I have them in two colors, but they are definitely a fall staple in at least one of the colors!
LIVING IN YELLOW OUTFIT DETAILS:
TOP // BUTTON DOWN TOP // JEANS // MULES // HAT // LIPSTICK (color: #49)
The next way to wear this versatile Living in Yellow TOP is to pair it with the softest JOGGER PANTS ever. These PANTS are my absolute favorite and I have three pairs because I wear them so much! Ha! I like to wear the PANTS in a size small petite so they are a tad shorter. I am 5'2 and they seem to fit perfectly! So, back to this TOP, I knotted it this time and really loved how it looked. It would be cute to wear it knotted with jeans too! I added my trust denim JACKET and my trusty NIKE CORTEZ SHOES (these are my fave!) for a super cute relaxed look. This is a perfect everyday look and definitely one that you can wear again and again. Plus, all of these pieces are incredibly versatile and while they look fabulous together, they will also look great separate as well.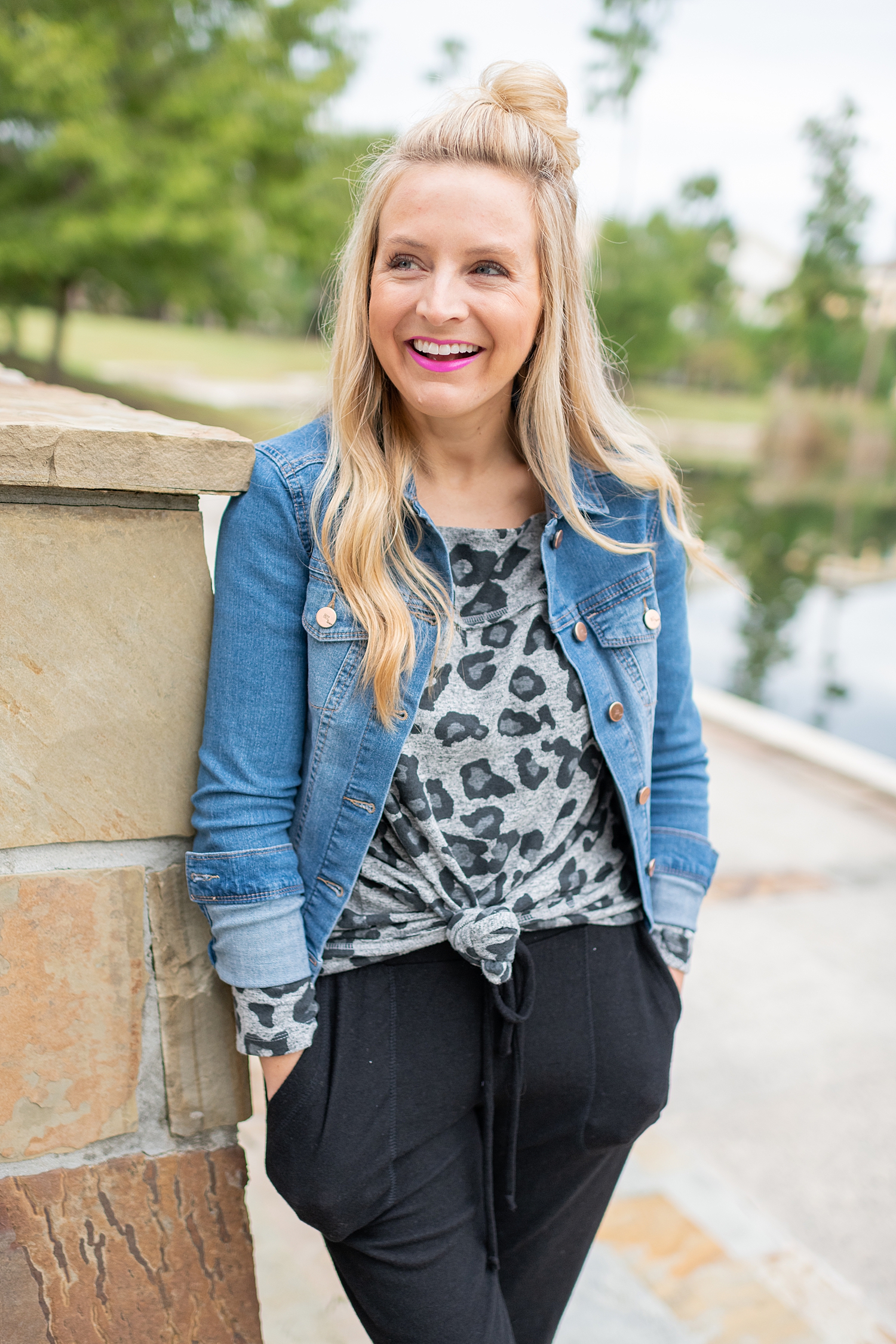 LIVING IN YELLOW OUTFIT DETAILS:
TOP // JACKET // JOGGER PANTS // SHOES // LIPSTICK (color: #49)
The third way to wear this Living in Yellow TOP is to layer a VEST on top! Clearly, I had to chose a PINK VEST, because when I saw this one in my signature pink color, I knew it was a must! But, if you're not into the bright colors, you can pair the TOP with pretty much any color vest, including BLACK and you'd be set for the day! Again, I paired it with my favorite JEANS and these cute MULES and I was set to go!
TOP // VEST // JEANS // MULES // LIPSTICK (color: #49)
So, which way is your favorite way to wear this TOP? It's a tough choice isn't it? I love all the ways! But, I think way number one and two are my faves!
Here are two other fun tops from the collection! This TIE FRONT TOP comes in a couple color ways and is the cozy Gibson material that we all know and love! I am wearing the size SMALL.
This wrap TOP is super cute and comes in a few fun colors! While it's a part of the cozy collection, it's perfect to dress up or dress down! Grab it here! I'm wearing a SMALL.
Two items that I loved and wasn't able to get my hands on early is this PLAID TUNIC (ordered in an XS) and this FLEECE PULLOVER (ordered in a SMALL). Two total fall staples for me and I can't wait to add these to my fall wardrobe! Grab them too!
Have you shopped the new Living in Yellow x Gibson collection yet? Just knowing the amazingness of this collection, I'm pretty sure it's going to be moving pretty quickly, so if you want to order anything, be sure to grab it asap, to make sure you get it in your size! Congrats to Erin and Gibson on this fabulous collection! See all of the new Living in Yellow cozy collection HERE and shop via the collage below to see all of my favorites from the collection!
Have a wonderful day! XO!
photography by melissa parsons