Happy Thursday, friends! I hope you had a wonderful 4th of July! It's so hard to get back in action when a holiday is midweek, right? I'm sure we are all moving slowly today! Ha! We are headed home from vacation today and we aren't ready!!! But, I am excited to get home and see the pups! I'm also super excited to share a delicious salad recipe with you that is from one of my favorites, Ina Garten! It's the perfect summer salad recipe! With watermelon, arugula and feta, how could you go wrong?
Take a peek at this delicious summer salad recipe!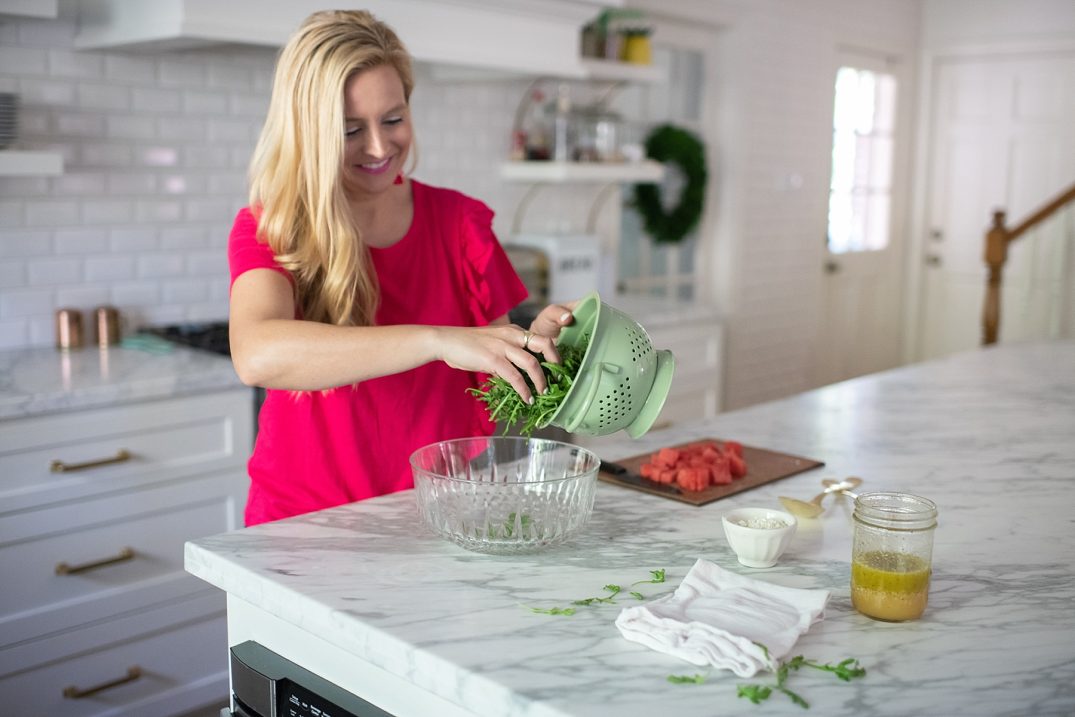 Arugula, Watermelon and Feta Summer Salad Recipe
(from here, by Ina Garten)
Ingredients
1/4 cup freshly squeezed orange juice
1/4 cup freshly squeezed lemon juice (2 lemons)
1/4 cup minced shallots (1 large)
1 tablespoon honey
1/2 cup good olive oil
1 teaspoon kosher salt
1/2 teaspoon freshly ground black pepper
6 cups baby arugula (washed and spun dry)
1/8 th seedless watermelon (rind removed, and cut in 1-inch cubes)
12 ounces good feta cheese (1/2-inch diced)
1 cup 4 ounces whole fresh mint leaves, julienned
Whisk together the orange juice, lemon juice, shallots, honey, salt, and pepper.

Add the olive oil and shake, shake, shake. If not using right away, store the dressing (covered) in the refrigerator. I use a ball jar to make, shake and store the dressing.

Place the arugula, watermelon, feta, and mint in a large bowl.

Drizzle with enough dressing to coat the greens lightly and toss it all together.

Serve and Enjoy!
This summer salad recipe is a favorite of mine!