This post is brought to you in collaboration with Nordstrom. I love partnering with brands that I love and trust. Post ideas and opinions are my own.
1901: THE NEW NORDSTROM BRAND YOU SHOULD ALL TRY!
Happy Wednesday, my friends! I hope your week is off to a great start! I am super excited to share one of my favorite Nordstrom brands with you today! It's called 1901 and it's an exclusive Nordstrom brand. When Nordstrom reached out about partnering on spring looks, I knew I had to highlight this brand because I am LOVING it! I truly feel like it was made for me! The colors, the prints and the cuts are all right up my alley! It's colorful and happy and perfect for spring and summer! Here's a little snippet about this brand: "Named for the year we opened our first Nordstrom store, 1901 starts with the classics—crisp shirting, smart tailoring, stripes—and brings them up to date with fresh print mixes, vibrant colors and never-ending styling potential. A reimagined mix of heritage pieces with American prep vibes, 1901 is timeless style with a modern twist." You know how much I love Nordstrom and the fact that it's a one stop shop! This Nordstrom brand has become a recent favorite of mine and truth be told, Mr. Fancy also loves it! He's been living in these LOAFERS lately! So much so, that he got them in a few colors.
As, Ive mentioned before, I love the option to shop online and pickup in store! If you need something last minute or just don't feel like waiting on shipping, this is a great option for you. Truth be told, I use it whenever possible! It's so easy to sip my coffee and shop the Nordstrom website, place an order and pop over to Nordstrom later that day to pickup the items that were available in my local store. If you haven't tried this feature yet, it's a must in you're in a rush! I love this option. My brand carries a great amount of the 1901 brans, so I was able to use this feature a lot lately. Again, with this brand, I truly feel like the versatility is there. You can take lots of these pieces from day to night and they've also got some adorable, casual, everyday options, like this SWEATER, TOP and SWEATSHIRT! Or you can get get your glam on with a DRESS like this one! The possibilities are endless with this Nordstrom brand!
Take a peek at my favorites from the 1901 Nordstrom brand!
When I saw this NORDY GIRL SWEATSHIRT, I knew it was a must! I've been shopping at Nordstrom since I was born basically and I've always considered myself a Nordy Girl!
SWEATSHIRT // JEANS // LIPSTICK (color: #49)
This PEPLUM TOP is super cute! I love stripes so much, but it also comes in solid colors! Perfect top to wear with jeans or shorts!
TOP // JEANS // EARRINGS // LIPSTICK (color: #49)
You've seen this DRESS before, but I had to share it again because it's a favorite of mine! I love it so much! It also comes in plain colors! I think the WHITE, LIGHT BLUE, NAVY, GREEN and YELLOW are also perfect for summer! The sleeves and the cut of the dress are my favorite! I truly love this floral print too!
DRESS // SANDALS // BAG // LIPSTICK (color: #49)
If you have an event coming up, I highly recommend this DRESS. It also comes in PINK, which I loved, but I had to pick only one, but I really loved the statement that the black and white gingham makes! I added a pop of turquoise with EARRINGS AND SANDALS to make it even more fun and I love how this fun look turned out!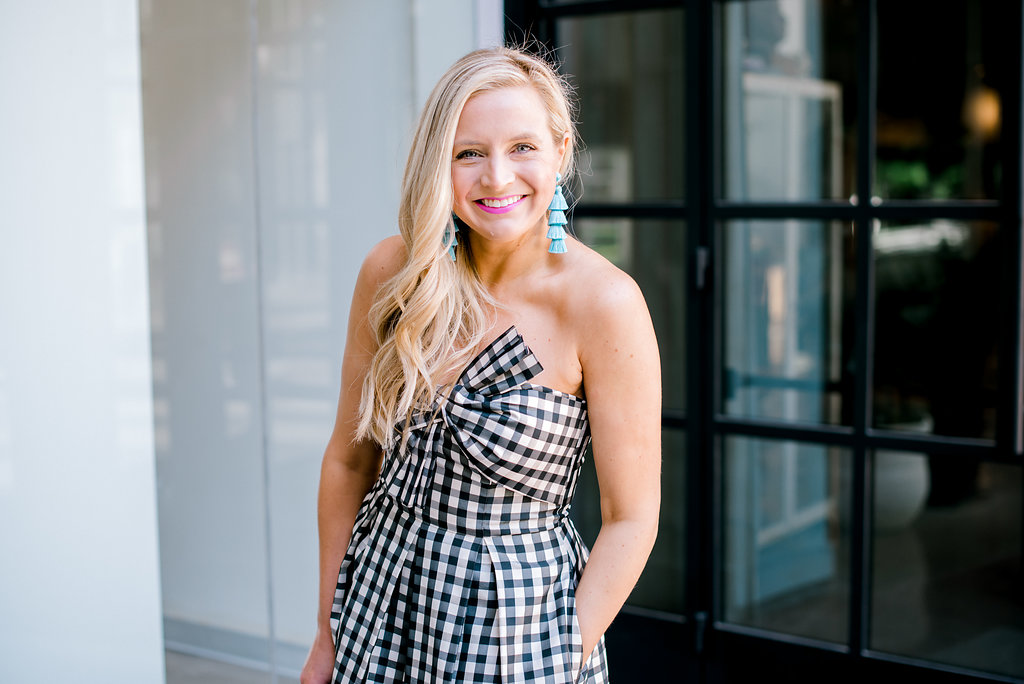 DRESS // EARRINGS // SANDALS // CLUTCH // LIPSTICK (color: #49)
This SWEATER is such a cute one and also comes in NAVY and YELLOW stripes! You might remember it from last week's date night POST! It really is adorable and white it's cute with jeans, it would be so cute with shorts too!
SWEATER // JEANS // LIPSTICK (color: #49)
This DRESS is perfection! It comes in different colors and can easily be taken from day to night! PS at under $80, these WEDGES are a must!
DRESS // WEDGES // EARRINGS // LIPSTICK (color: #49)
Tell me, have you checked out this amazing Nordstrom brand yet? If not, I hope these outfits give you some shopping inspiration!