Happy Friday, friends! I hope you've had a wonderful week! I am so excited to bring you my office reveal in today's post! This little office space that we created out of part of our garage, is finally finished! I truly couldn't be more thrilled with how it turned out! It's a small space, so I made sure to create it in an efficient way. I designed my built-ins to give me ample space for all the things. I absolutely love how it all turned out. From the shiplap to the brick flooring to my brass sconces, this space is a favorite retreat of mine. It's where I am inspired to create content for all of you! You can see what this space looked like before, in this post! It was a garage full of lots of unnecessary stuff! It's amazing to me how much we transformed this space in such a short time!
I'm excited to share a few of my favorite features in this office reveal with you! The drawers and cabinets have so ideal and I love how they turned out. Since I decided to go with a desk that has no storage, I am thrilled to have all of this space for my things. The cabinets are also pretty awesome inside. They have shelving and outlets and I keep kid iPads and my laptop plugged in inside. I keep craft supplies, clothing, etc in these and the space is so nice to have. The one side is deeper and I have even more space in that cabinet. The brass sconces are some of my favorite features. I absolutely love them. The chandelier is another favorite! I saw it and knew it was perfection for my office. My brick floors are my favorite. I'd put brick everywhere if I could! This rug adds so much color and pizazz to an otherwise crisp and white space! When I saw it, I knew it was the perfect addition to my office. The swivel glider is a favorite of Reagan and Mr. Fancy's. They both love to come in and chat with me while I'm working. I love my open shelving and had so much fun decorating them. I'm excited to share more about my design choices in another post, soon.
My ultimate goal with this office was to create an inspiring place to work and a place to keep all my things. I am thrilled that we were able to accomplish that and I couldn't be more excited to give you a glimpse into this special place that is all my own! Take a peek at my office reveal!
THE OFFICE REVEAL YOU DON'T WANT TO MISS!
TOP // JEANS // EARRINGS // LIPSTICK (COLOR: #49)
TOP // JEANS // EARRINGS // LIPSTICK (COLOR: #49)
TOP // JEANS // EARRINGS // LIPSTICK (COLOR: #49)
TOP // JEANS // EARRINGS // LIPSTICK (COLOR: #49) // MIRROR
TOP // JEANS // EARRINGS // LIPSTICK (COLOR: #49)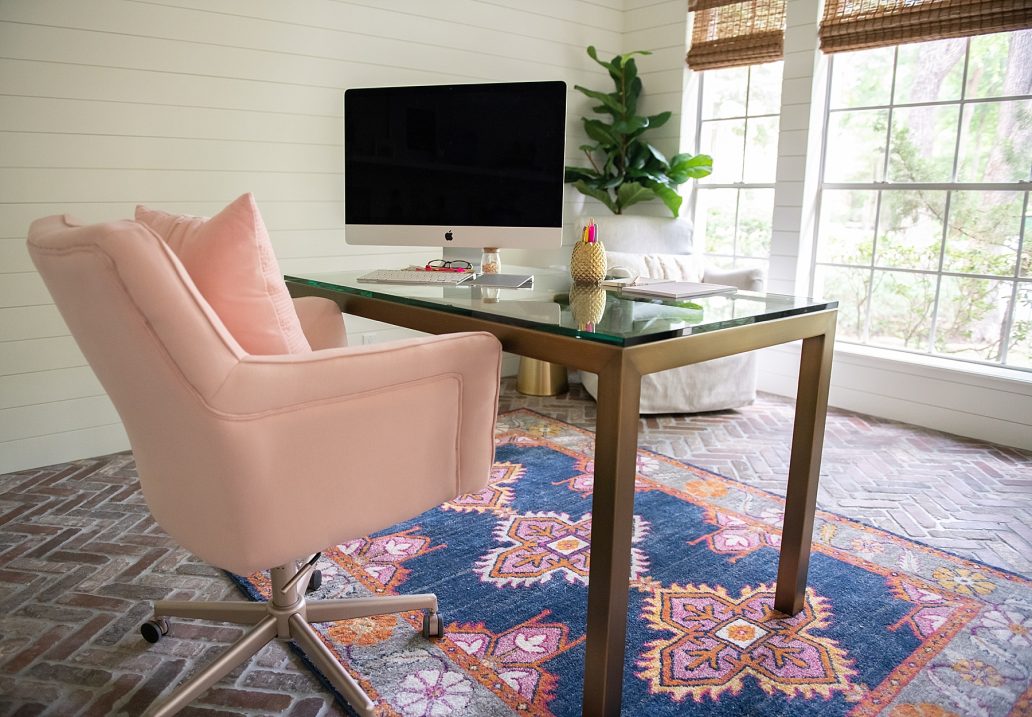 OFFICE REVEAL DETAILS:
Sources:
BRICK FLOOR (exact) // RUG // DESK // DESK CHAIR // SWIVEL GLIDER c/o // SIDE TABLE // MIRROR
FAUX FIG c/o // PEDASTOOL FRAMES // CABINET PULLS // DRINK TRAY //  FACE VASES c/o
PILLOW (in glider) // SCONCES // CHANDELIER // LETTER BOARD // BONE FRAME // BRASS
FRAMES // KATE SPADE BOOK // KATE SPADE BOOK // HOST BOOK // EMILY HENDERSON BOOK
DOMINO BOOKS // KATE SPADE BOOK // KATE SPADE BOOK // LOUIS VUITTON BOOK
PERSONALIZED HAT // GOLD TRAYS // CANDLE // FLOWER ARRANGEMENT // PEACOCK BOX
PINEAPPLE PENCIL HOLDER // PINK PILLOW (in desk chair) // GIRL BOSS MUG
GIRL, WASH YOUR FACE BOOK // PINEAPPLE SHAKER // FULL LENGTH MIRROR //
EMILY LEY BOOK // SIMILAR LEOPARD HEELS // EARRINGS
Outfit:
TOP // JEANS // EARRINGS // LIPSTICK (COLOR: #49)

I hope this gives you a fun glimpse into where I spend a lot of my days! I truly love this space and it inspires me daily! Thank you for giving me the opportunity to spend my days doing what I love, for you! Grateful for this space and all of you! Love you all! Tell me, what do you think of my office reveal?
Like this office reveal, check out my kitchen renovation HERE and my laundry room HERE
photography by melissa parsons