Happy Wednesday, my peeps! I hope your NEW year is off to a great start! We started a new house project today and we are rocking and rolling! The little presidents still have another week off school, so we are trying to keep busy and have some chill days! It's been nice! I'm back today with some of my favorite purchases of 2017! These are all items that can still be purchased! Keep in mind, I have TONS of favorites from last year, so I could really make a list of hundreds of items, but I really tried to narrow this down to recent favorites that I have worn again and again, but items that can still be purchased!
Here's my top 10 fave purchases from 2017!
ONE
I wear these all.the.time. Probably more than I really should, but oh well! Can you even wear leggings too much? I think not. They are fab and I have a few pair! You can't have too many pairs of black leggings in my opinion! The high-waist is amazing and I truly love these! I wear them in a size small!
Here are a few ways that I wear them! I actually don't wear them to workout, though that is what they're made for!
SWEATSHIRT // LEGGINGS // BOOTS
SWEATER // LEGGINGS // BOOTIES
TWO
This pullover is THE BEST! I love it so much that I have in a few colors! These are my favorite colors! I'm in the size small and I am 5'2 for reference.
THREE
These under $65 JEANS are hands down one of my faves! I wear them all the time! They have the perfect amount of stretch and don't stretch out too much. If you haven't tried them, I highly recommend! I wear the size 26 in them!
Here are a few ways I wear them!
FOUR
BOOTIES (on sale)
These are one of my favorite Nordstrom Anniversary Sale purchases! I have worn them so much and I've truly never found a pair of heeled booties that are this comfy! These are a favorite purchase for sure and they're on sale to boot!
FIVE
This baby is a winter favorite! I can't have enough cozy sweatshirts in my life! I have this in two colors and love them all so much! Have you bought this one yet? It's been one of the faves of December for sure!
SIX
These MULES come in numerous colors and have sold out numerous times! They are truly a favorite! I have in BLACK, but my PINK and GREY pair are truly my favorites! They came out with a version that has a back recently! Check those out HERE!
SEVEN
BARRINGTON SAVANNAH TOTE in AXIS PRINT
I love this TOTE! Year after year, it's one of my most worn pieces! This print is so neutral! It goes with everything!
EIGHT
This is truly one of my most worn necklaces! I love it so much!! Such a perfect everyday necklace to wear with everything!!!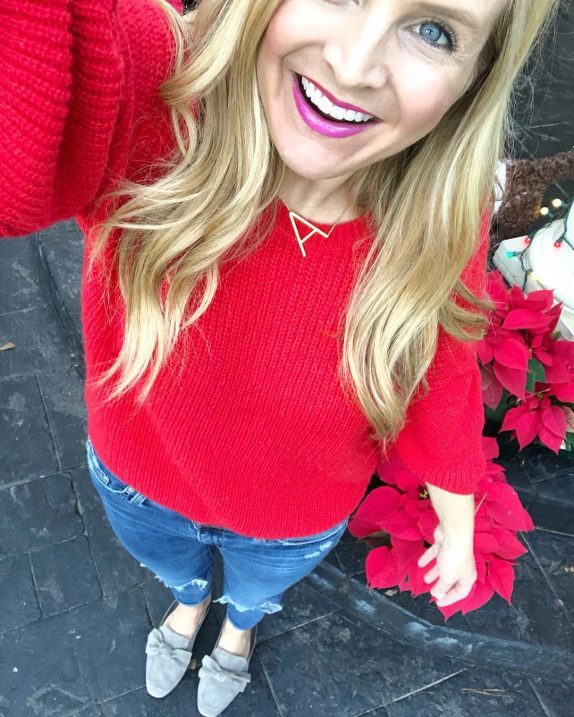 NINE
This CLUTCH goes with everything! It's truly a favorite! You can't beat the under $50 price point either!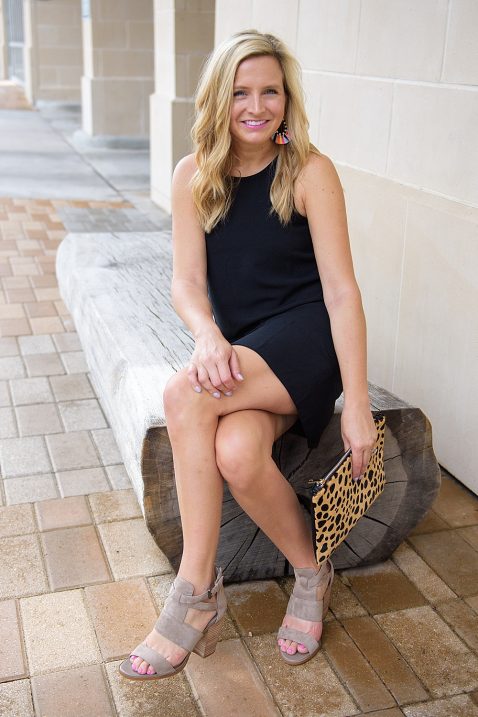 LEOPARD CLUTCH // DRESS // SIMILAR SHOES
TEN
This one is not sponsored, though it would be a dream to partner with Drybar because I truly love and use only their products on my hair! I had used my Sulta wand for years and while it was still working just great, I really wanted to try the new DRYBAR WAND because I love their products and hairdryers  and boy am I glad I did! It is just great! Easy to use, heats up SO fast and really just a great product! If you're in the market for a wand, I suggest this ONE! You can see my hair curling video HERE. I'll update it soon, using my new WAND!
So, there you have it! Those are my top ten purchases of 2017! It was hard to pick and honestly, I feel like there are a lot more! Are any of these your faves? If not, they might be a few of your faves for 2018! Have a great day! XO!
SaveSave
SaveSave
SaveSave