This post is brought to you in partnership with GrandinRoad. I love collaborating with brands that I love and trust. Opinions, post ideas and cute fam bam are my own.
Happy Tuesday, my peeps! I hope your week is off to a great start! Did you catch YESTERDAY'S POST where I shared my KIDS GIFT GUIDES! Be sure to check that out and let's get our holiday shopping finished! I only have a few more gifts to purchase! Yay! I'm back today to share my holiday home tour with you! This year we added a new tree to our home and instead of just the main tree and a few smaller trees in the bedrooms, we now have two large trees and I love it! I decided to go with a flocked tree and there is such a special meaning behind it. My grandparents, whom I adored, always had a flocked tree (a real one) and I have always wanted one. It reminds me of them every time I look at it and I just know they would think it is just beautiful.
This room is such a special one to me. It is my "shiplap room." I often sit in here and work or read. I love napping on this couch. It's one of the comfiest couches ever. We partnered with GrandinRoad on this space and I truly love the furniture and the addition of one of their beautiful trees and accessories during the holidays, just makes this space so inviting. I truly love the red, black and white theme that I decided to go with. It's a different spin and I'm so glad we did it this way. Ironically, Mr. Fancy wanted to add green to the tree, but I told him to trust me and of course, he loved the result. This little wicker tree collar is the perfect addition to any tree and if you missed my favorite tree collars, be sure to check out THIS POST. This is also Truman's favorite room. He is obsessed with this rug and stealing ornaments off this tree. Ha! We are truly thankful to have lived in this house for a year now and it's so amazing to see what a year can do! We've made so many changes to this house and we truly feel at home here. While I love this house all times of the year, the holidays are definitely my favorite!
Grab a cup of coffee and get ready for a picture overload of our home at Christmas time. It truly is the most wonderful time of the year!
*all products that can still be purchased are linked at bottom of post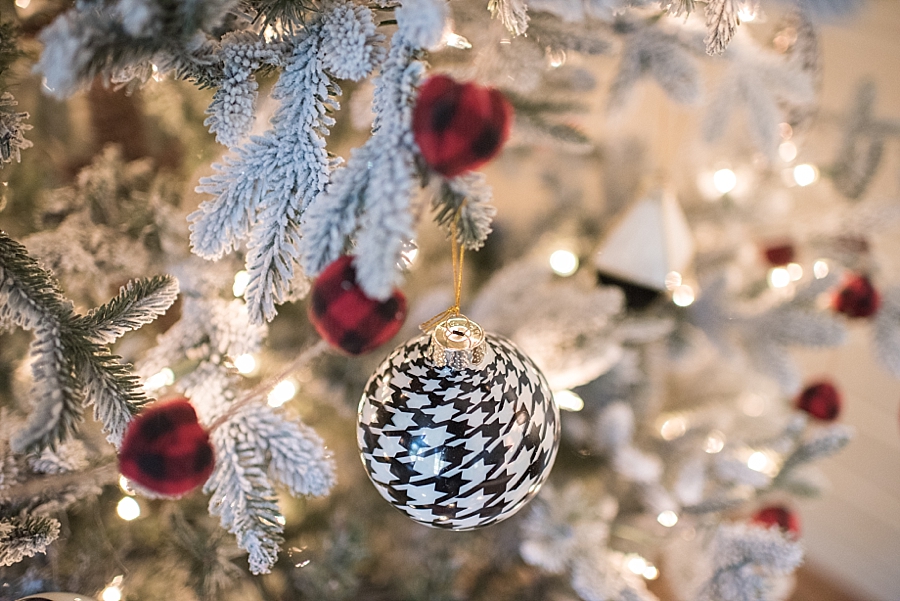 Outfit Details:
Ashley: TOP // TOP // LEGGINGS // LIPSTICK (color: #49)
Mr. Fancy: SHIRT // SWEATSHIRT // JEANS
Reagan: TOP // LEGGINGS // SIMILAR HEADBAND
Home Products:
FLOCKED TREE // COUCH // CHAIRS // BUFFALO CHECK PILLOW COVERS // INSERTS // PLAID PILLOW COVERS // INSERTS // BUFFALO CHECK BOWL // BUFFALO CHECK PLATES // ORNAMENT SETS (we used black and white and red) // LAMPS // LAMP SHADES // CANDLE // BLANKET // TREE COLLAR // RUG // CANDY CANES
What do you think? This is legit one of my favorite rooms in our house, besides the KITCHEN of course! Is your house decorated yet for the holidays? Hope you're having a great day! XO!
Photography by Melissa Parsons
SaveSave
SaveSaveSaveSaveSaveSave
SaveSave