Happy Friday, peeps! Okay, so here we are 11 days into November! Can you believe it?! If you saw YESTERDAY'S POST, then you know that holiday cards are on my mind! I've actually already picked ours out and I am ready to push the order button as soon as I finished my yearly poem that I include! I also need to finish typing in all the addresses. Today, I wanted to share my top 5 holiday card choices for this year, as well as an opportunity for THREE of you to win $100 credits to MINTED to purchase your own holiday cards! So exciting!!! I love MINTED and always order our cards from them, amongst other things. Too see all their holiday card options, click HERE.
Here is last year's CARD. I loved THIS CARD and it's still a favorite of mine!
Here are my five favorite cards from this year's collection:
TWO– *all gold foil is 20% off right now…use code FOIL20 (offer ends 11/14)
A few things that MINTED offers that will make your life easier and that I am taking advantage of this year. I love that they will print the return addresses right on the envelope! I usually do this! They have lots of front/design options that I just love. They will also print all of your send to addresses on the envelopes for you! This is amazing and while, I usually always write addresses by hand, I just don't have the extra few hours this year to do it. It's so nice and totally worth the extra cost to have the time consuming chore done for you! They are also offer CUSTOM STAMPS! Save yourself a trip to the Post Office and that long line to pick up stamps and order these cute and customized stamps! You better believe I have such a cute one designed with Teddy and Reagan's photo in it! I love this option! I think these envelopes are so darn pretty and cute! I love the kraft paper option, white I usually go with white.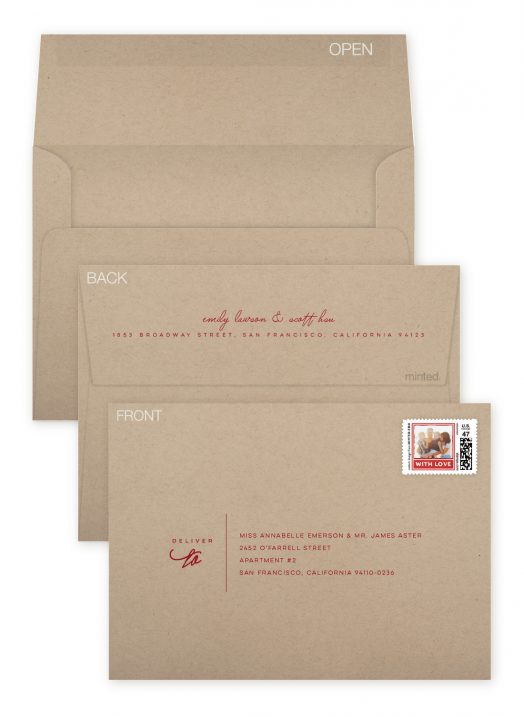 Have you started even thinking about your cards yet? It's early, but the holidays will be here before we know it! See all their HOLIDAY CARDS HERE!
Too see some holiday card photo outfit ideas for the kiddos, head to THIS POST
Enter to win THREE $100 credits to MINTED below! Good luck! The contest will run until next Thursday, November 17th.
Happy Weekend, peeps! XO