Happy Monday, sweet peeps! I hope your weekend was fabulous. I must admit, I was wishing we had another a three day weekend! Monday came too soon! We are so very ready for fall in our house. Football is happening on the TV all weekend and chili is simmering on the stove. The pumpkin spice candle scent is filling the house, but the outside is still in the 90's! Ha! We are ready, when you are, fall!
I'm a huge believer in splurging on items that you can wear again and again. My DENIM JACKET is one of the most worn items in my closet and at $75 it's not a huge splurge, but I have definitely worn this baby A LOT! I was hoping to find a military type jacket that I could wear all fall and winter. I wanted something with a feminine feel to it as well. I perused the Nordstrom website and knew I would find the perfect jacket, because they have such a large and awesome selection. I found the cutest JACKET and I am just in love with it! The buttons, the ruffles and the color! It also comes in an adorable pink color! Now, this definitely a splurge item, so you'll be seeing it a lot on me. The possibilities are endless with this one. Wear with JEANS, BOOTIES and a TEE or with a DRESS and BOOTIES. Today, I am showing you two ways to wear it, but keep in mind, there are lots of other ways to sport this beauty! The first look is a JEANS and TOP look. I added these BOOTIES and it made the perfect combo! It is the perfect fall outfit! The second look is this fabulous DRESS and my favorite BOOTIES. I love these and am clearly wearing them a ton!
JACKET // TOP // JEANS //BOOTIES 

DRESS/TUNIC // BOOTIES // JACKET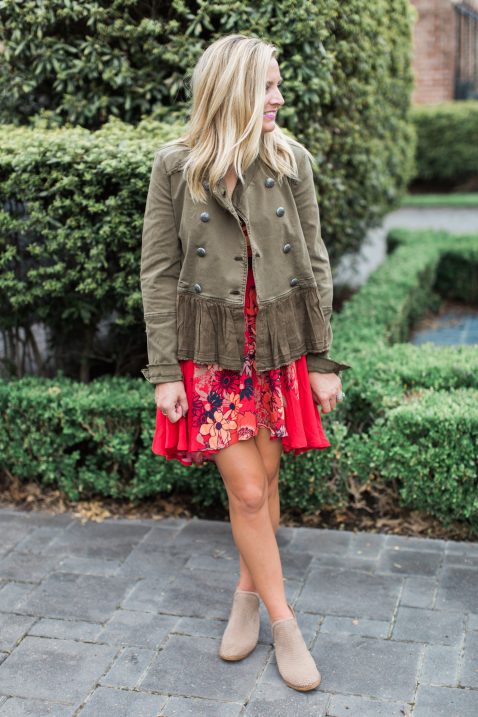 LOOK ONE: JACKET // TOP // JEANS //BOOTIES 
LOOK TWO: DRESS/TUNIC // BOOTIES // JACKET

Everyone needs a good fall jacket in their arsenal. Here are a few more military inspired jackets that would be a great addition to any closet:

This post was brought to you in collaboration with Nordstrom. I love partnering with brands that I love and trust. As always, post ideas and opinions are my own. 
Photography by: Abbi Hearne