Every once in awhile, you need a good, old fashioned, girls night in. I'm blessed to have a builtin buddy to do girls nights with, whenever we want! Reagan is super into baking, so we thought a cookie baking night would be the perfect activity for us. Plus, the boys don't mind helping us eat our cookie creations. We got all dressed up in our pajamas and were ready to get to baking. This floral pair of Kate Spade pjs is my new favorite. How cute are they?! I love the print so much. Reagan loved them so much that she was bummed that they didn't come in her size! She loves for us to match. Although, her Kate Spade "sweet" top and glittery headband were perfect for our little night in. She had too much fun rolling out the cookie dough and using these fun Kate Spade cookie cutters. She loved the apple and bow shapes best! We also had way too much fun decorating the cookies after they were baked! She takes after her mama and LOVES sprinkles! You know how much we love a flamingo around here, so when I saw this flamingo towel and hot pad set, I knew we had to have it. Such a fun addition to our little girls night! We just had the best evening! Cant wait to do it again soon!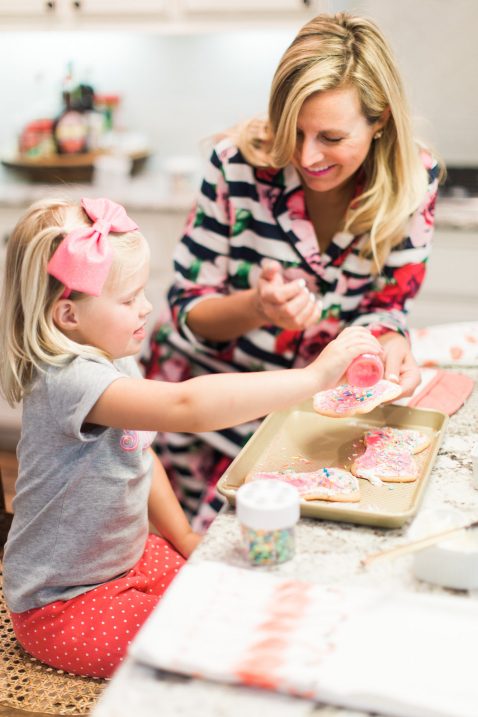 Pajamas // Sweet Top // Glitter Headband // Cookie Cutters // Towel/Hot Pad Set // Mixing Bowls // Rolling Pin

Have a happy Wednesday, peeps! XOXO!
Thank you to Kate Spade for sponsoring this post. All opinions and cute kiddo are my own.
Photography by: Abbi Hearne