If you have read here for awhile, you might remember this post about Teddy and how we decided to have him repeat kindergarten. This wasn't the normal, just have your child stay back decision, because he was already in first grade. You can read more about that here. I wanted to give an update because I think our experience could help some people make decisions for their own children in the future. Due to privacy, what I share about the little presidents is very sparse these days, however, this update is one that I think people could benefit from, so here we go!
So, from the first day that Teddy started in his new class, I felt we had made the right decision. Yes, he missed his friends in first grade and yes they missed him, but he immediately fit in with all the kids in his new class and they welcomed him with open arms. There is something to be said for the sweetness and innocence of this age group. They are some of the sweetest kids I have ever met. He is blessed to spend his days with these kiddos and teachers. There was an older student that Teddy played golf with that made fun of him for moving back to kindergarten, one day when I picked him up…it was actually shocking to witness. But, other than that child, we have not experienced anyone else giving him a hard time about this decision that we made. I actually worried a lot about that because kids can be so mean, but again, everyone has been so nice and supportive.
As I said, from day one, he was thriving. It was just so crazy to me that he adapted so FAST and was so happy. I honestly expected tears and lots of rough days because of having to leave his first grade class/friends, but we didn't have any of that. I'm so very thankful. The teachers in his classroom are some of the most amazing people that I have ever met. I am so thankful that he has gotten to experience this year with them. I honestly can't fathom where he would be without them. He looks forward to school everyday! He's up at with the sun, bed made and dressed, every school day!
What I really wanted to update you on today is how he is doing in school. I got a report card last week where he is "exceeding standards" and "meeting standards" in all subjects!!! Amazing, right?! A year ago, we were barely where he needed to be to move on to first grade. His reading has come so far that his teacher says "he can read anything!" and it's so true! He will just sit and read to himself or out loud. I'm amazed by this because reading has always been a struggle for him. Obviously his glasses play a huge part in this as well. This is a child that a year ago would be in tears when we had to read for homework and now he reads on his own without being forced. He actually enjoys it. He throughly loves doing school work and I am just so thankful to be in a place where he doesn't dread going, anymore. All the praise hand emojis! His personality is back to the easygoing and carefree and HAPPY kid that we've always known and again, this happened immediately, upon starting in the new class. The first grade material was too hard and too stressful. Having a bonus year to process these building blocks that he needs for the future, has done wonders for his confidence as well. There are no more "I can't's." He doesn't question his ability to do things, he does them, because he knows he can.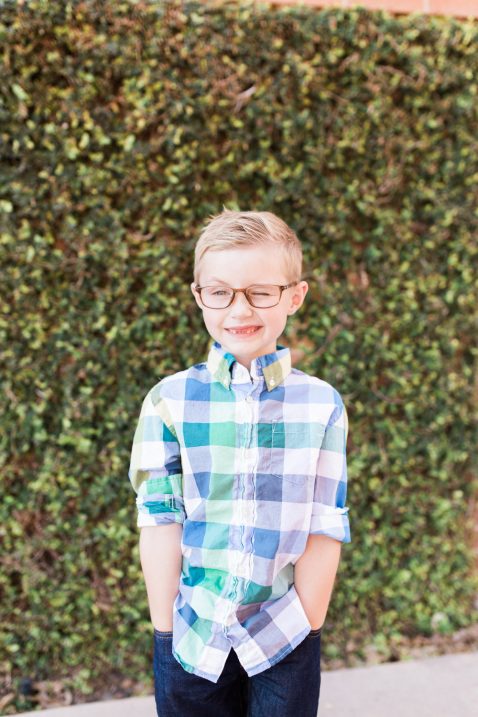 I guess what I wanted to stress today is that if you have any thoughts about holding your child back or are even considering it, definitely listen to your gut. We went back and forth, but still sent him forward because he was where he needed to be and that ended up being a mistake and thankfully we are at a school that suggested and fully supported moving him back to kindergarten. It will always be a decision that we will look back at as a great one. Looking back, I wish I could have known then what I know now, because I wouldn't have stressed as much about the decision. I wouldn't have worried! I find myself reading his report card and feeling like this decision has been so validated tons of times over and I am so thankful to God for that. There is more to our journey in school than what I share here, so definitely feel free to reach out if you have any questions. In the end, this bonus year has been the best thing for Teddy and we are amazed by him and SO very proud of him! At this point we have no plans for a bonus kindergarten year for Reagan, but believe me if it is recommended, we wouldn't think twice about it! 🙂
*Teddy's 7 Year Photos by: Abbi Hearne