The little presidents have been asking to have a gingerbread house making party, for months. Teddy wanted to invite like 30 people…that many kids with frosting, candy and sprinkles? Eeeeekkkk! Reagan wanted to have one friend. We decided to keep it small and simple. We asked our friends to come over on Saturday morning, in their holiday pajamas! Reagan and I hit up World Market for everything we needed for the houses. One of the things I love most about this store is how affordable everything is and we were able to get pretty much everything we needed from this one stop shop! We filled our cart to the brim with fun stuff to decorate! We had such a wide variety of sprinkles, candies and options, as well as houses for everyone! I loved these houses because they were already built. So easy! Plus, they come with some frosting and toppings! We needed more than our store had in stock, so we also went with a few gingerbread houses that we had to assemble. I would've ordered more of the already built version (just for ease), if I had more time! I just made the non assembled houses the night before and they were ready to go the next am. We set out the houses and LOTS of decorations and all the kiddos went to town decorating. It was neat to see all the different creations. There was LOTS of candy eating as well. I think this is going to be a new early tradition with our friends. It was such a fun-filled morning and everyone had such a great time! We kept it pretty simple and I've learned that those are my favorite parties. Each friend headed home with a little party favor. We sent or friends home with a snow globe kit (these are SO fun and this kit is fun too!), a hot chocolate marshmallow spoon and Christmas nail stickers (for the girls). I also took polaroid pictures (with my fave camera) of each kiddo with their gingerbread house creation, to take home with them! They loved both of these favors and were so excited! Of course, they took their gingerbread houses home, too!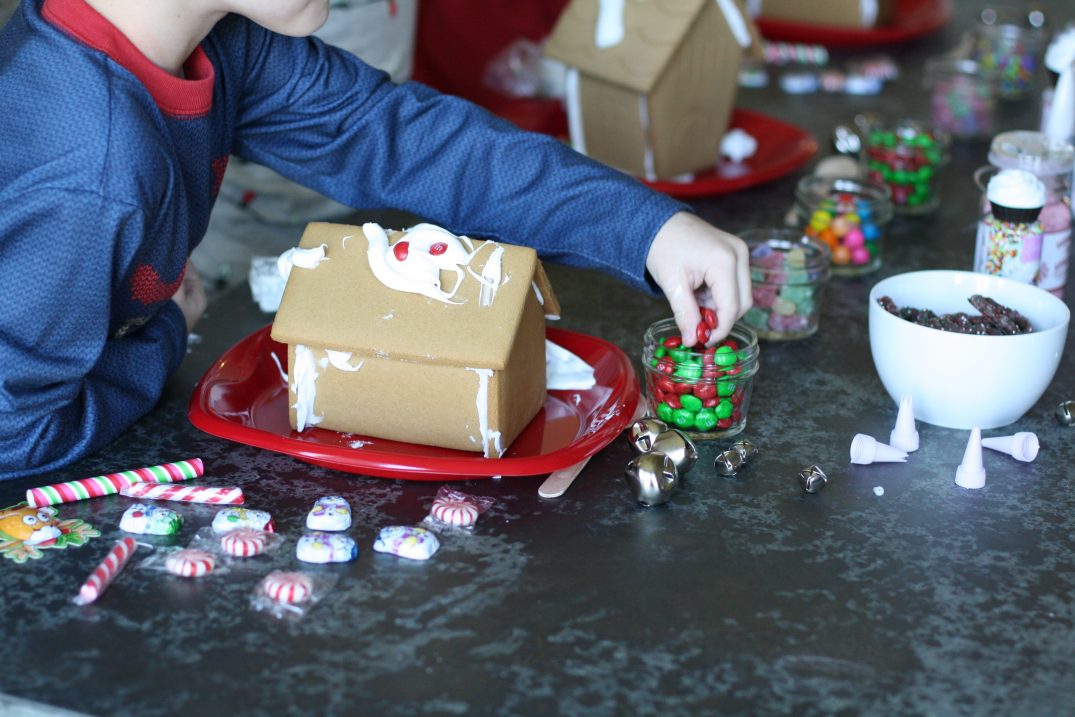 We had such a fun morning. I am forever grateful for the friendships that my kiddos have. We have been blessed with some awesome friendships here in Texas.
Want to have your own party?! Shop the items we used for ours, below:

Shop items and similar home items in the room below:

Teddy and Reagan's pajamas can be purchased below:

*head HERE to see ALL our favorite holiday jams for kids!
Have a happy Monday, peeps! XOXO
To see how I added some Christmas touches to our home, head HERE.
To see ALL my Christmas gift guides in ONE place, click the Fancy Christmas Gift Guides box below!
*this post is brought to you in partnership with World Market. I love collaborating with brands that I love and trust.
**this post may contain affiliate links