Happy Friday, peeps! I am pumped for the weekend, as always! The first day of fall was a couple days ago and it's still HOT outside! We are ready for all things fall…especially fall weather!!!! I hope it's coming soon!!! For now, here are a few favorites!
I haven't linked up with my pals Andrea, Erika and Narci in awhile, so I am joining them for their Friday Favorites linkup today!
Okay, so I love catalogs. I can still remember fighting with my siblings over who got to read the precious JC Penny catalog, back in the day. Even though, I do the majority of my shopping online, I still love to peruse catalogs. The new Pottery Barn catalog got here on Monday and Reagan and I have both had the best time looking through it, again and again. There are so many items that I am just LOVING right now now. Here are a few of them.
These wine barrel wall mounted drink dispensers are amazing. I can't even handle how fabulous they are. I already picked out a spot in my kitchen and I think I need at least a few of them. I mean, really, what a fun concept! I just LOVE them. They would add so much character to a kitchen, dining room or bar area!
I LOVE this whole room!!!
I just love this idea and think it is so awesome!!!
Wine Barrel Wall Mounted Drink Dispenser (try saying that ten times, fast! Ha!)
This cheetah printed pillow cover is so fabulous. You know how I think that every room needs a touch of animal print of some sort! I just love this one. I am currently thinking that a few of these will grace our bed once I finish our master bedroom!
These metallic gold pumpkins are pretty much the perfect addition to any fall decor, don't you agree?!
Did you see my bar cart post last week? If not, you can see it HERE!
I also shared a few of my favorite budget friendly bar carts the other day and you can see that post HERE.
I shared a fun post about our new favorite cheese board HERE. This cheese board is such a must have for any household and such a perfect gift as well!
Shop the items in that post here:
Cocktail Glasses // Cheese Board // Cheese Knives // Texas Towel // California Towel // Bud Vase
The little presidents LOVE decorating for all the holidays and I do too, but honestly, I never do much for Halloween or fall in general. They have been requesting decorations and I picked up two fun fairytale pumpkins this week and opened the most Halloween garland from my bestie! We love it!!!
Ive had these photos of the little presidents ready to hang for months and I mean months! Yesterday, we finally had them hung! I love them so much and it feels great to check items off the to do list! The frames can be purchased HERE. I love the ease of ordering through this company and hands down the best customer service! and beautiful products!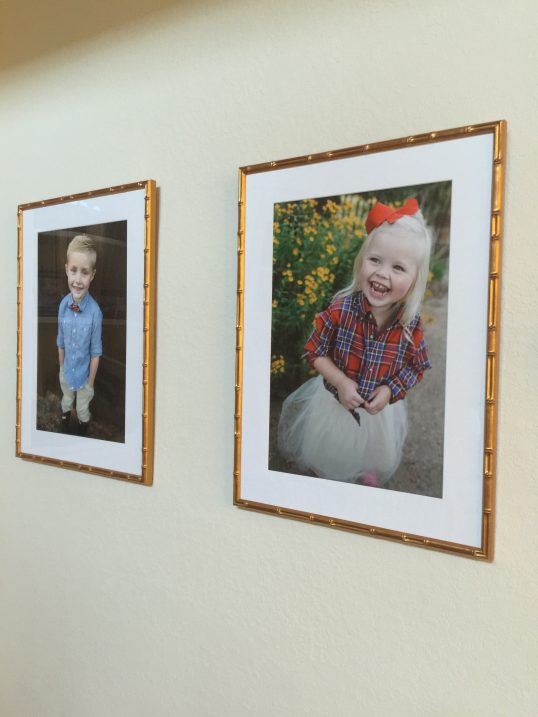 Hope you have a fabulous weekend! XOXO
*this post may contain affiliate links