I went back and forth about writing about my week, but in the end, decided to write about it. I think it's nice to know that we all have these kinds of days, weeks and months.
It's been one of those weeks around here. Nothing awful has happened, but lots of little things have gone wrong. Numerous days this week, I have been like "really?!" and wonder how I'll make it to Friday. It all started on Monday. Do you ever have those days where you are thinking you're totally on top of things and then come to realize that in fact, you are NOT on top of things. Well, this was me on Monday. I got into carline to pick up Reagan and was sitting there early, just relaxing and feeling happy that I made it on time. When school gets out and she hops in the car, she immediately bursts into tears and says "My school picnic was today and you forgot to come." OMG. Immediately, as she said it, I remembered the school picnic. Of course, I cried as she cried. I mean I hate to let either little president down. I hate to let anyone down for that matter. The worst part is I was just sitting at home, eating a quesadilla. I kid you not, eating a dang quesadilla (Napoleon Dynamite reference). I was not busy, I was not somewhere and couldn't get there. It just completely slipped my quesadilla eating mind. I felt awful the whole rest of the day and really the rest of the week honestly and she brings it up daily, so clearly it really upset her which I hate! But, seriously, why are there soooooo many events at the end of the school year?! There is SO much going on over the next 3 weeks before the kids get out for summer break! Please tell me you feel me on this! In the span of 4 days, I have let one kid down, I've had a large master bathroom window shatter (for NO reason), I've had a very upsetting thing brought to my attention that I can't stop thinking about, I've been told one kid is struggling in certain parts of school, I've had a rock hit my car window and crack it, I've had one kid at the dr, I've burst into tears when a stranger asks how I'm doing, I've been seconds from running out of gas, amongst other small things…Oh, and all this while Mr. Fancy was out of town. You know those types of weeks. Just one of those weeks where you are like "no more, please." There is so much good and we are so blessed, but when you have weeks and days like this, it's hard to remember the positive. I have seen this quote floating around Pinterest for quite some time. It comes to mind this week. "It's just a bad day, not a bad life" My interpretation of it for this week: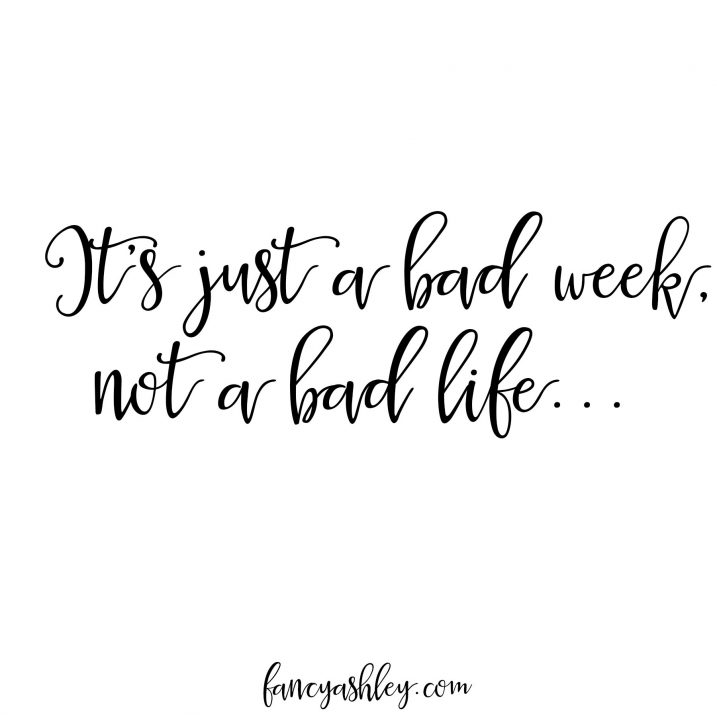 Of course I have baskets of laundry to do. I'm sitting here hoping that Teddy has a clean uniform shirt for the morning. At the end of the day though, I think Reagan probably won't recall me forgetting her picnic, the window will get fixed, situations will resolve and dishes and laundry will get finished. Until then it's just a bad week. Tomorrow will be better. It just has to be. In the midst of all of the chaos of this week, I found this note in Teddy's backpack:
It was a sweet note from his best friend. She's always writing him notes…but, I swear, I needed to see this at that moment. We all need the reminder that in spite of it all, we are good. I'm going to frame this and keep it in Teddy's room. It just made me think about how much we all need words of affirmation daily. Can you even remember the last time someone said "you are good!" or "you did a great job!" or "you are enough!" As moms, we spend a lot of our lives being cheerleaders to our kids. I think it's easy to forget that we need that cheering on too. It's important to hear that you're doing a good job. I mean, you forget your kid's school picnic…you feel like the worst mom ever. Or at least I did. Sometimes even moms need to hear the cheers too. So, if you've had a week like I have or even if you've had an amazing week, I hope you remember that you are good. You are awesome, in fact and you are loved. XOXO!