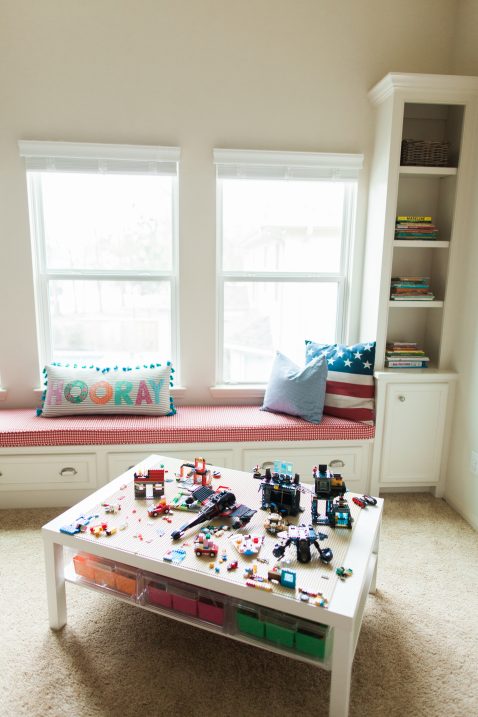 Welcome to the third week of Home Tour Tuesday! Today we are giving you a peek into the presidential playroom. On a side note, are you new here? Let me give you a quick background on why we call our kids the little presidents! Teddy was named after Theodore Roosevelt and Reagan was named after Ronald Reagan! Simple as that! We started referring to them as the little presidents or the LPs and the rest is history! Before we even built our house, I had this room planned in my head. We loved red, white and blue and what better thing to call a playroom for our little presidents than "the presidential playroom!" This is one of their favorite rooms in the house. Honestly, it's one of mine as well. The gingham and chalkboard wall was painted by Mr. Fancy and me. You can see our DIY post HERE. It's a very open room and I love the shelves, window seat and drawers that I had built in. The storage is awesome, not to mention, I love having a place to sit and watch the little presidents play! They spend a to of their time in this room and it makes my heart happy that they love it so much!
*This post may contain affiliate links
The Deets:
Gingham and Chalkboard Wall, done by us, see DIY HERE
Zinc Top Kids Table, Restoration Hardware, I also love THIS ONE
Kids White Tolix Chairs, More Colors HERE
Gingham Window Seat Cushion, Custom
Lego Table, made by me, see DIY HERE
Blue Gingham Pillows, made by me, see similar HERE
Hooray Pillow (I always love THIS and THIS for a kids' room!)
Star Marquee Light, Restoration Hardware, under $130 HERE

I hope you've enjoyed a little glimpse into where the little presidents play! I'll be back next Tuesday with the treehouse! Have a fabulous day!
*See Teddy's bedroom tour HERE and Reagan's bedroom tour HERE!
Photos by Jen Dillender Photography