Happy Thursday lovelies!
This week is kind of kicking my booty, so to speak. We are having major issues with our flooring in our new casa. It's bad. It's become such a fight and it's really so much unnecessary stress. I am praying we come to a conclusion soon, because it has taken up way too much of our time and honestly, no one should have to deal with this two months or two years after moving into a house. I wish pictures would do it justice so you could see what's going on with it, but it's not as prevalent in photos.
Anywho, In the midst of the floor chaos and summer chaos, I am still trying like crazy to finish up the house. My kitchen is slowly coming together and the only thing I am now waiting on is our over the island lighting which has been on backorder. The manufacturer keeps changing the ship dates, so we are just waiting and wishing that they will get here soon. I cannot wait for them to get here because I LOVE them so much!!!!
The one area of my kitchen that is finished is my coffee and wine bar, so I decided to share it with you, today! This is a special little area to me. It's the first place I head every morning when I get out of bed and typically, it's one of the last places I check each night before bed. I always make sure that the water in my Keurig is filled and I make sure that I have a coffee cup out and waiting for me for the next morning.
This little area is one of my favorite spots in the house. I always try to keep fresh flowers there. Coffee and fresh flowers are pretty darn nice to wake up to, that's for sure!
My wine fridge is located right under my coffeemaker, so this area can also be called "Ashley's Essentials Area." Of course my wine fridge is stocked with my fave, Picton Bay Sauvignon Blanc (available at Trader Joe's)!
My Keurig turns on each morning at 5:30…I always intentions of waking up super early…lately, it has not been happening. Either way, I have hot water waiting for me when I do wake up and my coffee is seconds away from being brewed. The creator of the Keurig is a genius, by the way!
I hope you enjoyed this little glimpse into our new house and I hope to show more very soon. I am anxious to get this place completely finished. I have been wishing I could snap my fingers and do just that! 🙂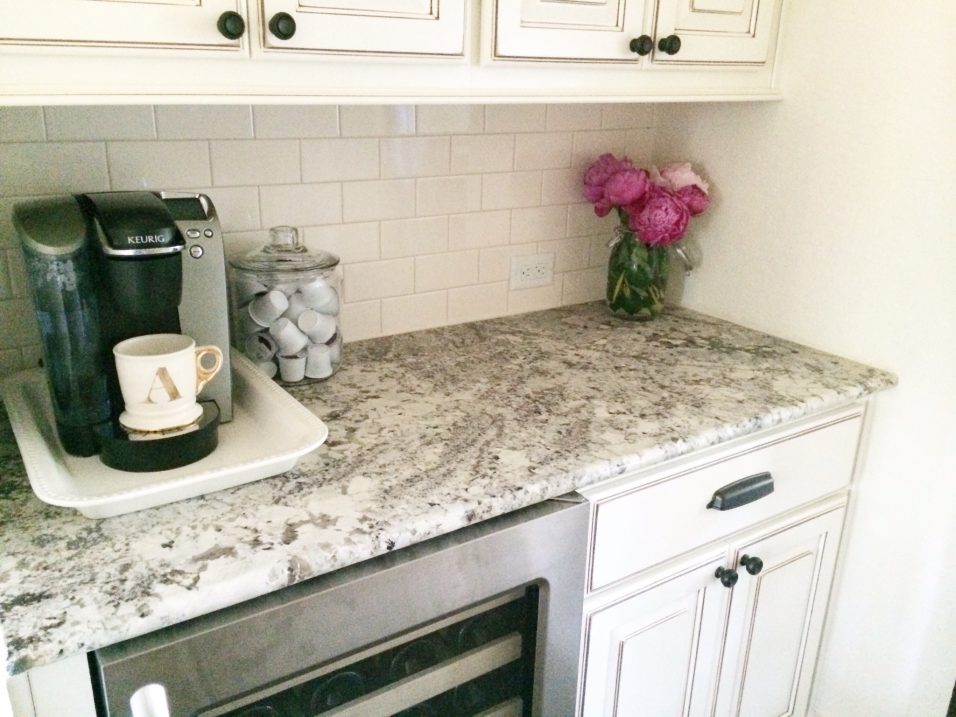 Details:
Jar (filled with coffee pods)
Jar (filled with peonies)
Knobs/Pulls (similar)