Happy Monday lovely peeps!
Here is a little recap of our weekend!
My plans were to rest this weekend, but then Thursday night, while I should have been sleeping, I decided I needed to work on the little presidents' playroom. Almost every room in this casa is unfinished…so, now I am slowly trying to finish rooms. My little project that should have been over on Friday afternoon, snowballed into a way bigger project….Needless to say, I was still working on it on Sunday. The good news is, I love the outcome and will share it soon, when it's completely finished!
We started off our Friday at the Home Depot. All three of us were like the hot mess express in there. Reagan is planning her bedroom. She was trying to find a metallic gold…easier said than done.
After we got home, I got to work and the little presidents headed out for a lunch break/shopping with Mr. Fancy. Loved this pic that he sent to me and love that he and Reagan are doing the exact same smile.
Teddy and Reagan were dying to help…They came. They painted. Paint splattered everywhere. They loved it. The end. We all know this is a dream come try for Reagan. She loves to color and paint on walls and this was actually okay…so, she was all about it. They had to wear their Home Depot hats!
After my little project turned into a crazy project…we headed back to the HD on Saturday am for more paint. Yes, Teddy has on two different shoes. I pick my battles. They are the same color, so he has that going for him. Ha!
While more paint was drying, we headed to the pool for opening day. The little presidents loved it!
Then we needed a new ladder…somehow our old tall one didn't get packed…so I headed to get a new one. If I ever regretted getting rid of my huge SUV, it was then, as I drove home with a ladder in my face. Haha! I had cleaned my car out and all I had were Reagan's rain boots…I put them on the end of the ladder so that it didn't go crashing through my back window when I stopped. I thought it was genius.
Chloe spent most of her weekend keeping an eye on the hood.
Mr. Fancy cooked a delish brunch on Mother's Day and we spent the rest of the day finishing my project…I somehow roped him into it. He is nt a fan of all my DIY ideas. Haha!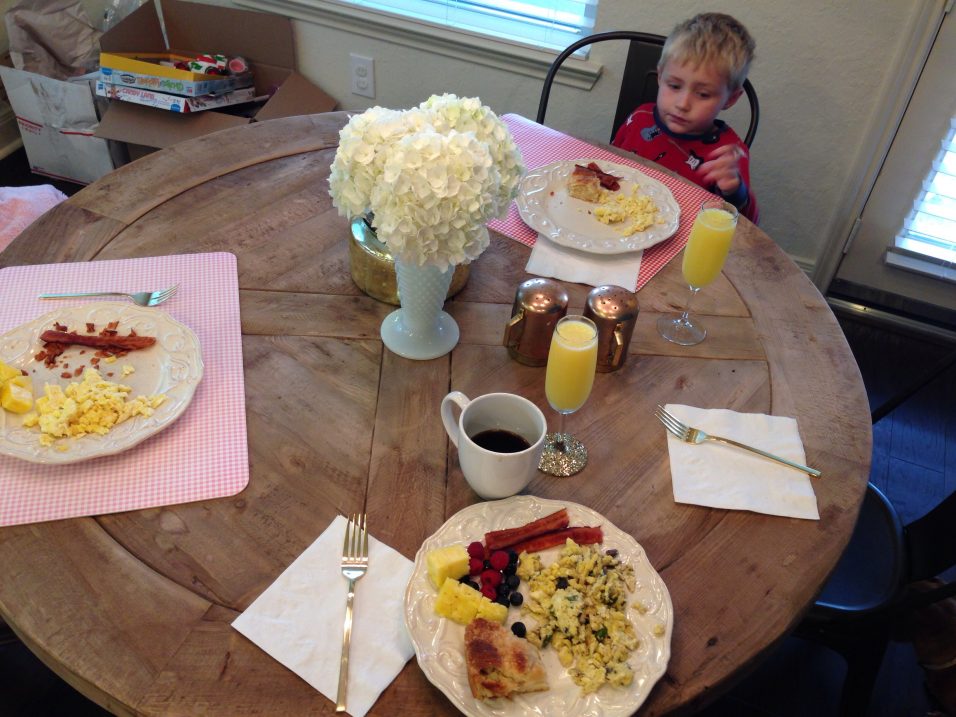 I worked on Teddy's room a bit, while paint was drying….It's coming together. Slowly!!!
Then, we got ready for dinner and cocktail hour! I'm so very thankful for these two who made me a mama. They refused to take a pic with me. I had to bribe them with tortilla chips to take one…Whatever works!
We ended the weekend with one of my fave meals. Seared ahi tacos. Recipe coming soon…
All in all it was a great weekend. I should have rested more, but I am super excited about my little project and I can wait to share the finished product with you, soon!
How was your weekend?